Watch Video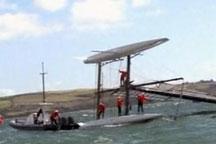 Play Video
At the America's Cup World Series event in Plymouth, the China Team capsized during a training sail.
Despite the hull of the catamaran being severely damaged, none of the crew members were hurt. They reacted calmly in ensuring crew members were safe and brought back into Plymouth harbour with as little damage as possible to the multimillion dollar yacht. The repair crew now has a tough task ahead of them, working throughout the night to ready the craft for today's race.
Graeme Spence, member of Chinese Team said, "The team handled everything really well, got the boat back up, got everything secured and back in safely. We've got a bit of a job ahead of ourselves now getting it out in this state."
Editor:Zou Xian |Source: CNTV.CN