Watch Video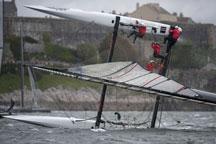 Play Video
The last day of the America's Cup World Series in Plymouth, England, was dominated by capsizes and collisions. Extreme weather conditions challenged the best sailors and fastest boats in a winner take all Fleet Race.
It was Super Sunday in Plymouth as people gathered on the Hoe for the final day's race. Strong winds were predicted and the sense of anticipation was in the air, as crowds eagerly awaited for the start.
It's the last fleet Race of the Americas Cup World Series here in Plymouth and everyone is guaranteed a front seat.
Arriving early, paid off as crowds on Plymouth Hoe were treated to thrills and spills even before the race began. Energy Team – got their first ever dunking when trying to avoid Team Korea. Moments later another dramatic collision with Artemis Racing riding up over the back of Green Comm happened.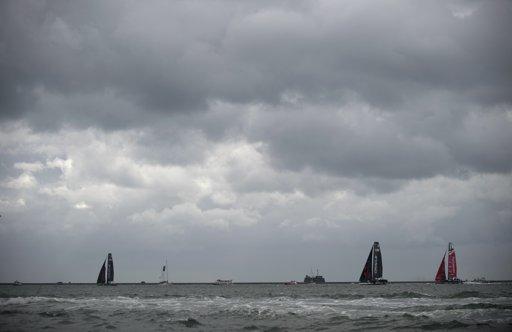 Teams compete during the final fleet race of the America's Cup in Plymouth, southern
England September 18, 2011. REUTERS/Kieran Doherty
With their boat badly damaged in the crash the Spanish team had no other option but to retire.
As the race started the two ORACLE Racing boats and Emirates Team New Zealand were off. The rest of the fleet could only but follow. China Team capsized, but quickly recovered and were soon in the running. The pressure was on as Artemis Racing tried to catch up after their collision.
With boats scattered across the course, James Spithill took his Oracle Racing to the front of the fleet, and managed to stay there, eventually crossing the line first. Dean Barker had to satisfy himself with 2nd place ahead of Russell Coutts.
Russell Coutts, Skipper & CEO of Oracle Racing said, "We did ok today we probably could have won that race or should have just a bit of indecision at the wrong time, you know and you can't do that in these boats, I think you've got to be decisive and and react quickly".
Dean Barker, Skipper of Emirates Team New Zealand said, "Its a winner takes all format so whoever puts the best race together on that day comes out well, it felt a little bit like a meat sandwich in the middle of an oracle sandwich all day."
With boats touching speeds in excess of 50km/h, back end places where still being fought over, with Artemis ending their race in dramatic fashion. But it was left for China team to finish inside the 10 minute race rule which they did with seconds to spare.
Charlie Ogletree, Skipper of China Team said, "Yeah it was exciting really windy and crazy we capsized and were able to get back up again and keep racing and finish so we are excited about that."
We've seen some fantastic racing here join us when we continue following the third leg of the Americas Cup World Series in San Diego.
Editor:Zou Xian |Source: CNTV.CN