Watch Video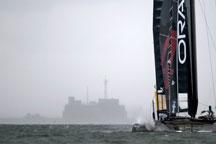 Play Video
It's been a big weekend for the Americas Cup World Series stop in Plymouth, England. The fast-moving sailing series drew huge crowds for its second round of action. CCTV reporter found out more about the importance of the historic competition, the trophy, and what drives some of the best racing sailors in the world.
As the excitement of the Americas Cup World Series gets underway in Plymouth, in England, the oldest and most prestigious sporting trophy in the world continues to entice sailors.
Now even more with America's Cup new racing era which features the sport's best athletes competing on some of the most physically and demanding boats in the world -- the AC45 wing-sailed catamaran.
Focused on creating more on-the-water excitement for both teams and fans, this wing-sailed catamaran was designed for both speed and close racing, dubbing it as the Formula 1 one of boats.
This is what it's all about. The America's Cup is the oldest active trophy in international sport, at 160 years this trophy has attracted the best sailors in the world and is desired by all challenger teams, in this new era of the cup nothing has changed and sailors still dream of some day being part of this competition.
Chris Drapper, Skipper of Team Korea said, "When I was at school sailing was all I wanted to do and I didnt do that well in most of my exams I have reasonable education but i was always thinking about sailing, and that what was always on my mind and this is exactly where I wanted to be."
Andreas Hagara, Helmsman of China Team said, "I had two dreams, two wishes to win an olympic medal in olympic games and second wish was to be part of an Americas Cup team well now I am part of the China Team."
This new format of the Americas Cup sees China and Korea come on board and challenge other teams in this one design boat, contributing to more excitement and fulfilling childhood dreams.
Kit Cheng, Crew of China Team said, "When I was young I love sailing, a lot and I really wanted to be a real sailor, on this Americas Cup and now I can be here and i am very very happy with this because it is a dream come true and also because now I am doing the cup racing for China Team, for my country China".
Chris Drapper said, "The AC45's are helping many of us smaller teams or less experienced teams, to come up to speed with the more experienced standing teams a lot quicker and the boats are quite even the diffrence really is only in the soft sails, the experience of sailing the boat, we are all trying to learn quickly and the smaller teams are trying to help one another, as much as possible training together and things like that."
Dean Barker Skipper of Emirates Team New Zealand veterans to the cup and Saturday's Match Race Champions, says that the excitement of winning is open to anyone.
Dean Barker said, "There is a huge amount of passion and determination we always talk of bringing the up back home taking it back to where it belongs and its a huge motivation for everyone on team New Zealand."
The America's Cup World Series has quickly become the formula 1 for those who have a passion for race sailing oferring the biggest prize in world sports, and only, just looses out to the Olympics and the FIFA World Cup.
Related stories
Editor:Zou Xian |Source: CNTV.CN