Related reading:
Maracana gets 2014 World Cup final
Rio's fabled Maracana stadium will host the 2014 World Cup final with Sao Paulo staging the opening match of the global showpiece, FIFA's general secretary Jerome Valcke announced on Thursday.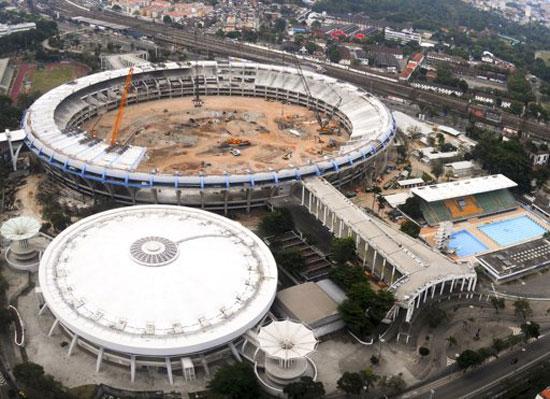 Aerial view of the Maracana stadium remodeling on October 4, 2011 in Rio de
Janeiro, Brazil, with a view to host the FIFA Brazil 2014 World Cup. At left,
the Maracanazinho (small Maracana) for basket and volleyball, the main entrance
ramp (C) and the Julio Delamare aquatic centre on right.
The opening game takes place on June 12 with the final on July 13.
Meanwhile, the semi-finals will be held in Belo Horizonte on July 8 and Sao Paulo on the ninth with Brasilia staging the third-place play-off on July 12.
FIFA has constantly expressed its concerns over progress being made at the country's 12 World Cup venues, but Brazilian president Dilma Rousseff has insisted since the middle of August that work is on schedule.
The choice of the mythical Maracana to stage the final was not a great surprise, but the Rio venue has endured its share of setbacks, the most recent of which was a 19-day strike by workmen.
They were protesting over wage levels, working conditions as well as health benefits.
Officials had been hoping for a quick return to work as September 16 marked the 1000-day countdown to the start of the tournament.
The cost of modernising the Maracana has been estimated at $660 million.
In mid-September, the Brazilian government made assurances that the arenas in all 12 host cities were on schedule in construction or renovation and will be ready by December 2012.
But the government also admitted that work had not started in five of 13 airports which will welcome millions of tourists.
Brazil also needs to spend more than $11.4 billion to improve roads, boost security and the country's telecommunications infrastructure, according to a study by the Getulio Vargas foundation and Ernst Young consultants.
Related stories