Watch Video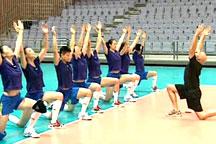 Play Video
China's women's volleyball team is now getting set for the upcoming World Cup season. And as the women get their tactics and skills back into game shape, their bodies are also getting back into shape, thanks to the addition of a new physical trainer from America.
The man leading the Chinese women's volleyball team through training is 36-year-old Joshua XX from the United States. He is used to working with top-end talent, as he was the trainer for the German national team during the 2006 World Cup.
His job in China is to help the women's volleyball team improve their strength for this month's World Cup in Japan and for next year's 2012 London Olympic Games.
Zhang Xian, China's Women's Volleyball Player, said, "It's good, very good and new to us."
He is not only helping players get stronger, but is helping them avoid injuries, while also relaxing after the match.
At his first practice he incorporates Yoga to help the team become more flexible. He also helps some key members of the team perform some training techniques that have been used by many professional teams for years.
Xu Yunli, China's Women's Volleyball Player, said, "I am very very tired...We've never trained like this before. His way is definitely new for us. "
Wang Yimei, China's Women's Volleyball Player, said, "After the training, we think his training method is scientific. But for us Chinese players, we still need time to adjust to it. We will cooperate with the physical coach to improve ourselves improve. It's good to learn training new methods."
Related stories
Editor:Zhang Dan |Source: CNTV.CN