Watch Video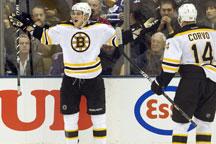 Play Video
In ice hockey, last season's Stanley Cup champs took on the team currently leading the NHL's Northeast division. The Boston Bruins were set to show the Toronto Maple Leafs what it takes to be the best in the league.
Boston's Tyler Seguin opened the scoring in the first period and the Bruins kept the piling-on the pressure. Then, Seguin knocked-in Patrice Bergeron's defelected pass for a goal in the second period. Toronto would have no answer to the Boston onslaught.
The Bruins' Milan Lucic broadened the advantage to 3-zip just eight seconds later. Teammate Zdeno Chara delivered the assist, and the squad swept on from there. Seguin notched a hat trick with his third goal and the Bruins were blitzing the Maple Leafs with a 4-0 lead. Boston added three more goals in the third period to end the game with a 7-0 blowout victory. The champs enjoyed their first back-to-back wins of the season.
Editor:Zhang Dan |Source: CNTV.CN