Watch Video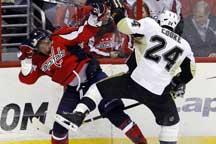 Play Video
To the ice now and one of the NHL's most intense rivalries was renewed Thurday night. Alexander Ovechkin and the Washngton Capitals faced off against Sidney Crosby and the Pittsburgh Penguins.
Crosby's Pens have only won 2 of 13 matches in the regular season against Ovechkin's Caps.
First period the road team got on the board first. Aaron Asham sets up Craig Adams on the doorstep. 1-nothing Pens.
These teams do not like each other...Pittsburgh's Asham and Washington's John Erskine tangled in an intense brawl. Erskine eventually won this one and the game went on.
Still 1-0 in the second, but Washington on the attack...check out the mitts on Jason Chimera, he goes roof to beat Marc-Andre Fleury and even the score.
Same score early third Chris Kunitz fights off a couple of Caps to get to a loose puck and fires a shot into the net. That's the game-winner as the Pens take it 2-1. Washington has lost 4 straight.
Editor:Zhang Pengfei |Source: CNTV.CN