Watch Video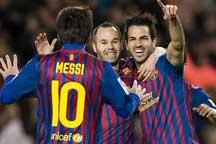 Play Video
Defending Spanish football champion Barcelona looks like it's back in shape after some early struggles on the road. The squad returned home for a match against league surprise Levante at the Nou Camp.
Barcelona dominated the procedings as usual. Andres Iniesta's backheel set up former Arsenal captain Cesc Fabregas. He found space and fired a low shot into the net. Pep Guardiola's side led after only 3 minutes.
33rd minute, Barca playmaker Xavi Hernandez's freekick found Fabregas, who nodded home his second. The ex-Gunner earned more trust for his starting chance ahead of the El Clasico match with Real Madrid.
Barca displayed more scoring strength 4 minutes later. World Player of the Year Lionel Messi put B-team-er Isaac Cuenca through. The youngster seized the chance to side-foot Barca's third goal.
The visitors got close 9 minutes after the restart, but Victor Valdes made a world class save to keep Levante's scoresheet clean.
Barcelona's Daniel Alves released Messi, who beat an offside trap. Messi then slotted in his 17th league goal, which tied him with Real Madrid's Cristiano Ronaldo.
Barca completed the rout six minutes later. Chile forward Alexis Sanchez ditched his marker and sent up a curling lob shot. The ball hit the bar and bounced into the net for 5-0. Barcelona wins it and prepares for next weekend's 'Clasico'.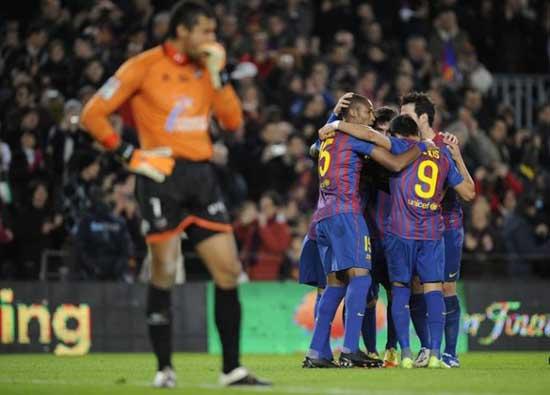 Barca Hammers Levante 5-0 In La Liga
Valencia edge Espanyol 2-1
Meanwhile, Valencia welcomed its former legend Mario Alberto Kempes of Argentina before facing Espanyol.
Valencia won a penalty 6 minutes in. Tino Costa stepped up to convert the spot kick, putting his side in front 1-0.
But the visitors came back at 69 minutes. Espanyol's Hector Moreno scrambled in a free kick from close range.
Then,Valencia struck the winner 11 minutes later. Roberto Soldado came off the bench to thrust the dagger with a header. Final score: 2-1.
Angel Di Maria inspired Real Madrid to a 3-0 win at Sporting Gijon. Real eased to a 10th consecutive league victory, and 14th in a row in all competitions. The squad cemented its three-point lead over second-place Barca, which has played one game more than Jose Mourinho's side. Real holds 37 points from 14 matches. Valencia is third, four points behind Barca with a game in hand. Levante sits four points further back in fourth.
Editor:Liu Fang |Source: CNTV.CN