Watch Video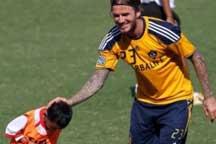 Play Video
The LA Galaxy's meeting with the Philippines national football team took place in front of a near sellout crowd. Almost 10,000 fans packed the stadium in the Philippines' capital of Manila. But as Barnaby Lo reports, David Beckham and the rest of the MLS champions did more than just showcase their talent.
It may have been dubbed as the Dream Cup, but lucky for Filipino fans, it was, for real. David Beckham and the rest of the LA Galaxy – this year's champion at the Major League Soccer in the United States – were in Manila for a friendly showdown with the Philippines' national football team, the Azkals.
David Beckham said, "We know that there are some talented players here, and we expect a very difficult game. We always try to play diplomatic football but it doesn't always happen. We want to win."
It was to be the biggest sports event staged in Manila in recent years, one that both teams said they took seriously.
Phil Yonghusband, Philippine Azkals, said, "After the game, we would like to take pictures and autographs, but it's important that we're professional before the game and during the game. "
CCTV's Barnaby Lo said, "A year ago, no one would have imagined Filipinos gathering at a bar like this, watching football, and a match between David Beckham's LA Galaxy and the Philippines' national football team at that. But with the Philippine team's recent successes in international tournaments, this basketball-loving country seems to have found a new love."
Despite worries that tickets were not selling fast enough, on game night, the stadium was almost packed. Most Filipinos were glued to the television, watching nervously, hoping their hometown heroes – the obvious underdogs in the match - would manage to put up a good fight.
David Beckham provided the first goal of the night 20 minutes into the match, the Azkals scored one in the first half, but from then on, Filipino fans would have to watch the L.A. Galaxy crush their team to prevail with six goals to one.
But despite the loss, the future of Philippine football looks brighter than ever. The day before the match, Beckham and his teammates spent time in the field with Filipino kids, giving them lessons, and memories that would last a lifetime.
A Philippine fan said, "At first I kept telling them that it was like a dream, but then afterwards you get used to it and then you feel how lucky you are to be able to play with them and train with them. "
That these kids got a chance to learn from one of football's greatest players, and the fact that Beckham was actually in the country, is a sure sign that football has indeed arrived in the Philippines.
Editor:Liu Fang |Source: CNTV.CN