Watch Video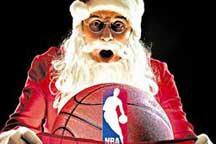 Play Video
Anticipation is building for the delayed start of the new NBA season. It will begin on Christmas Day, and players are expected to appear for training this week, after months of tense negotiations with the league and team owners.
Teams have opened their offices for the first time since the lockout began on July 1.
The expected ratification is scheduled on December 8, with training camps opening on the 9th, the same day that free agents can be signed.
The 66-game schedule will begin Christmas Day. There will be 16 fewer regular season games than usual. The Christmas slate includes a rematch of last year's Finals between Miami and defending champion Dallas.
National Basketball Players Association chief Derek Fisher also returned to the practice court Friday. The Los Angeles guard talked about his hopes for the new season.
Derek Fisher, President of National Basketball Players Association, said, "You know to that point where as a team we're where we want to be, you know those are the things I'm really starting to focus in on a great deal you know that's where the energy will come from and obviously it'll be a shortened season but one we're going to look forward to, you know just the same as we do other seasons, hopefully to win a championship."
Editor:Liu Fang |Source: CNTV.CN