Watch Video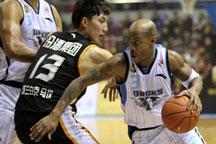 Play Video
The NBA is weeks away from getting its season started, but the competition in the Chinese Basketball Association is already heating up. The hottest team is the Stephon Marbury-led Beijing Ducks, still the only undefeated team in the league. A home court victory against Shanxi would make it 7 wins and no losses so far.
Marbury was as solid as ever on Sunday night. Shanxi got a look at his offensive skills early in the game. But there's more to the Ducks' success than the American import. The Chinese cast has been equal to the task.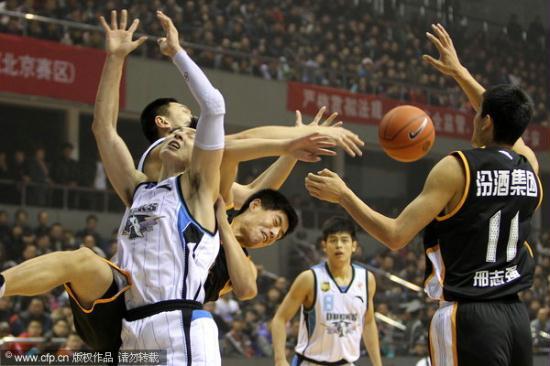 Ji Zhe of Beijing Ducks and Xing Zhiqiang (R) of Shanxi Zhongyu fight for the ball during their seventh round of the Chinese Basketball Association (CBA) game in Beijing, Nov 4, 2011. [Photo/CFP]
Powerful young players are helping build the team's success. 22-year-old Ji Zhe went for a double-double against Shanxi. He was a force in the paint with a season-high 19 points and 12 rebounds. Another Beijing standout kept his early-season stride. 21-year-old Zhu Yanxi made 3 out of 4 three-point attempts and got 15 points.
But Shanxi international Charles Gaines was tough for the visiting side. He hit from the inside, and Marcus Williams was accurate from the outside. The duo combined for 61 points. The rest of the Shanxi squad didn't quite match up, and Beijing took an 11-point lead at the break.
The Ducks offense picked up where it left off after halftime. They rang up three-pointers to keep a double-digit lead. And Ji Zhe brought the crowd to its feet with a slam. Beijing was hard to stop. Six players scored in double digits for the home team. Beijing thrashed Shanxi 121- 97 for its 7th straight.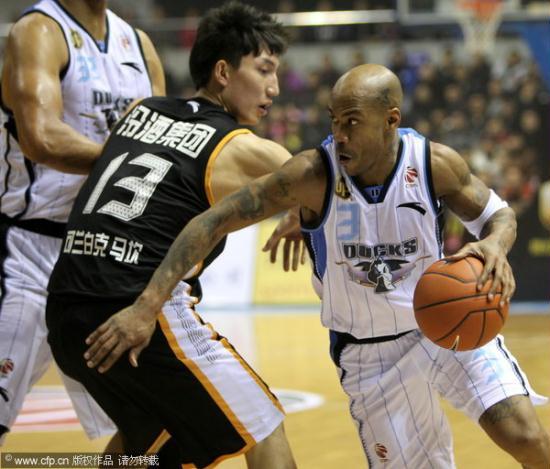 Stephon Marbury (R) of Beijing Ducks battles pressure from Kerambak Makan (13) of Shanxi Zhongyu during their team's seventh round of the CBA game in Beijing, Nov 4, 2011. [Photo/CFP]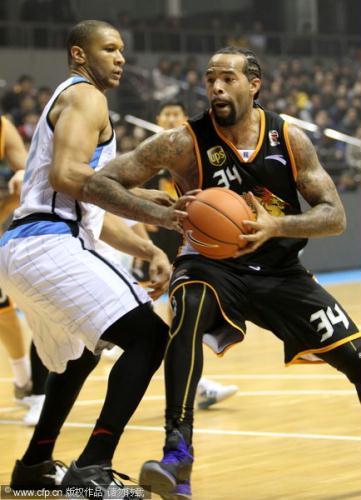 Randolph Morris (L) of Beijing Ducks tries to block Charles
Gaines (R) of Shanxi Zhongyu during their team's seventh
round of the CBA game in Beijing, Nov 4, 2011. [Photo/CFP]

Related stories
Editor:Zhang Dan |Source: CNTV.CN