Watch Video
Play Video
Juventus and Cesena met in the second half at Turin. Juventus struggled to break down the Cesena offense and lost captain Alessandro Del Piero to a gashed forehead just after the hour mark. Del Piero's frustrating season continued. He had to leave after just eight minutes of yet another substitute appearance.
But Juve's Claudio Marchisio broke through in the 72nd minute with his sixth goal of the season.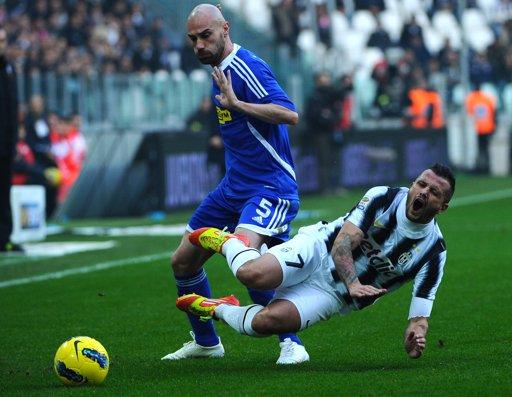 Cesena's midfielder Roberto Guana (L) fights for the ball with Juventus' midfielder
Simone Pepe during the Italian Serie A football match Juventus against Cesena on
December 4, 2011 in Juventus stadium in Turin. AFP PHOTO / OLIVIER MORIN (Photo credit
should read OLIVIER MORIN/AFP/Getty Images)
And 11 minutes later - Goalkeeper Francesco Antonioli punched away a cross, but caught Juventus forward Emanuele Giaccherini with his arm in the process. Antonioli had to be replaced by a defender, because Cesena had used up its substitutions. Juventus won it, 2-0.
In other games, Colombian Victor Ibarbo's goal gave Cagliari a 1-0 win at Catania. It marked the Sardinians first victory since Davide Ballardini became their third coach of the season. Bologna beat Siena 1-0 while Atalanta held Chievo 0-0. Juventus has 29 points from 13 games, two ahead of AC Milan and Udinese. Novara, Cesena, and Lecce all stayed in the bottom group.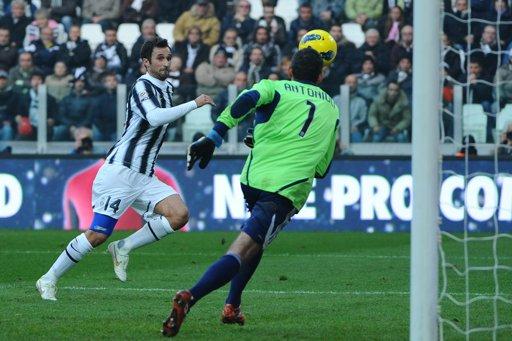 Cesena's goalkeeper Francesco Antonioli (R) fights for the ball with Juventus' forward
Mirko Vucinic during the Italian Serie A football match Juventus against Cesena on
December 4, 2011 in Juventus stadium in Turin. AFP PHOTO / OLIVIER MORIN (Photo credit
should read OLIVIER MORIN/AFP/Getty Images)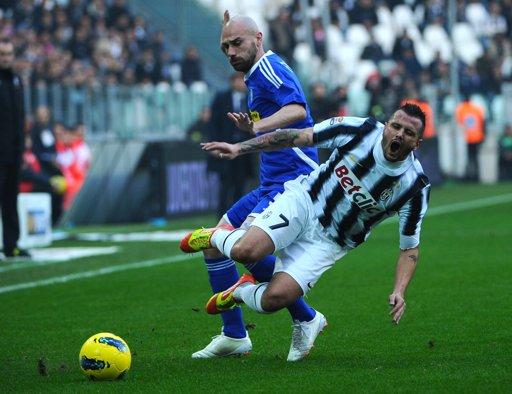 Cesena's goalkeeper of Uruguay Guillermo Rodriguez (L) fights for the ball with
Juventus' midfielder Simone Pepe during the Italian Serie A football match Juventus
against Cesena on December 4, 2011 in Juventus stadium in Turin. AFP PHOTO / OLIVIER
MORIN (Photo credit should read OLIVIER MORIN/AFP/Getty Images)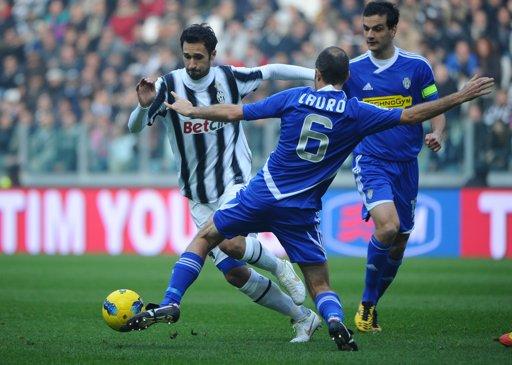 Juventus' forward Mirko Vucinic (L) fights for the ball with Cesena's defender Maurizio
Lauro during the Italian Serie A football match Juventus against Cesena on December 4,
2011 in Juventus stadium in Turin. AFP PHOTO / OLIVIER MORIN (Photo credit should read
OLIVIER MORIN/AFP/Getty Images)

Editor:Zhang Dan |Source: CNTV.CN