Watch Video
Play Video
The new, lockout-shortened NBA schedule is out, and it looks like this season will be unlike any other. The league's 66th season will be comprised of 66 games, 16 fewer than usual, due to the five-month lockout over a labor dispute that ended Nov. 26.
The season begins on Dec. 25 with a Christmas Day slate of five games and ends April 26. Playoffs are to begin April 28 with the last possible NBA Finals date June 26. The opening day features a championship re-match between defending champion Dallas and the Miami Heat.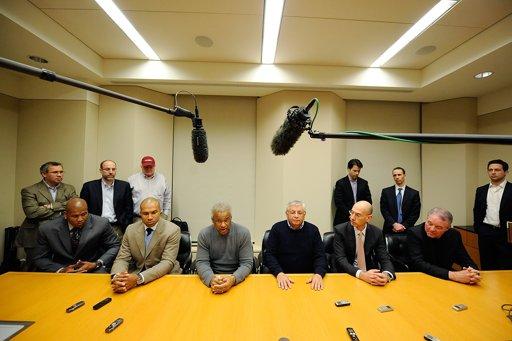 (L-R) Maurice Evans, Derek Fisher, Billy Hunter, NBA Commissioner David Stern, NBA
Deputy Commissioner Adam Silver, and Peter Holt speak to the press to announce a
tentative labor agreement. The NBA released the first portion of its shortened
schedule with the 2011-12 lockout-hit season now set to open with five games on
Christmas Day. (AFP Photo/Patrick Mcdermott)
Then, NBA MVP Derrick Rose and the Chicago Bulls, winners of a league-best 62 games last season, visit the Los Angeles Lakers and perennial All-Star Kobe Bryant. The Lakers will be tested right from the start with back-to-back-to-back games in the first three days. LA will take on the Sacramento Kings and the Utah Jazz after opening against Chicago.
Last year, the Heat struggled to blend their "big three" superstars and only acheived a 9-8 mark out of the gate. This year's start should be smoother, with only five of their first 12 games against last year's playoff teams. The NBA will feature a seven-game schedule on New Year's Eve in a further attempt to jump-start the new schedule.
With the games laid out provisionally, teams can focus on the training camps set to open on Friday, the same day as free agents can be signed. This is all pending the expected ratification of the collective bargaining agreement by both the league's owners and players this week.
Watching, not playing, LeBron James and Dwyane Wade of the Miami Heat look on from
courtside seats during the game between Ohio State and Duke in Columbus, Ohio. The
NBA released the first portion of its shortened schedule with the 2011-12 lockout-hit
season now set to open with five games on Christmas Day. (AFP Photo/Joe Robbins)
Editor:Zhang Dan |Source: CNTV.CN