Watch Video
Play Video
Stars past and present took part in the ninth annual Match Against Poverty in Hamburg, Germany on Tuesday. Some 30 international stars joined Brazilian and French greats Ronaldo and Zinedine Zidane with most of the proceeds going to help in the relief effort of the ongoing food crisis in the Horn of Africa.
Ronaldo and Zidane are Goodwill Ambassadors for the United Nations Development Program and they put together a team of famous players for the friendly at the Hamburg Arena against an all-star side from Hamburger SV.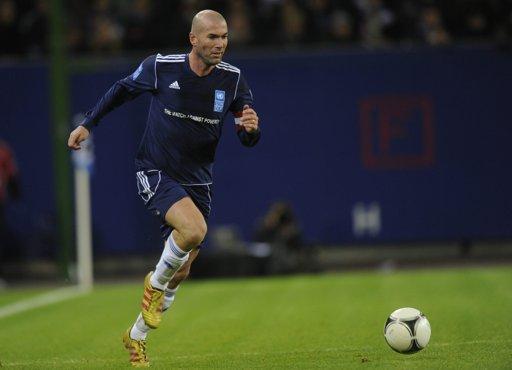 Zinedine Zidane of the Ronaldo, Zidane and Friends Team controls the ball during the
"Match against Poverty" charity soccer match against the Hamburger SV Allstar Team,
in Hamburg December 13, 2011. REUTERS/Fabian Bimmer
Eventually, it was "the Zidane/Ronaldo" team triumphing over the locals 5-4. Afterwards the former Real Madrid greats spoke about the event and what it means.
Zinedine Zidane said, "There is an important message. The message is to say that it's complicated. There are places in the world, in Africa, where it's difficult but there are projects which are being put into effect. And it's about sparing a thought for those people."
Ronaldo said, "It's very important the optimism, carrying on bringing assistance to the people who need it the most and especially on this date, towards the end of the year, at a time when there are a lot of parties throughout the world, to remember that there is a lot of poverty in other places."
The line-ups: 'Team Ronaldo, Zidane and friends' and HSV Allstars' at the Imtech Arena
All-star: Didier Drogba (second right) celebrates scoring with Ronaldo (left) and Zinedine
Zidane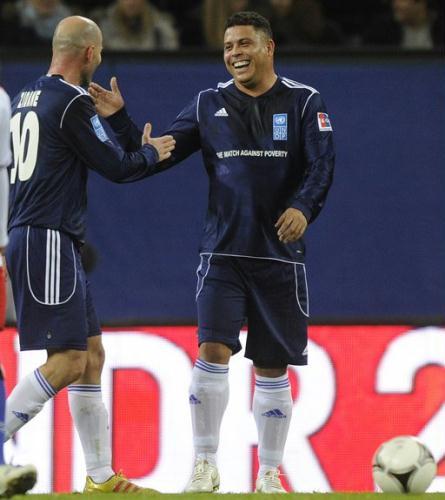 Ronaldo (R) of the Ronaldo, Zidane and Friends Team is congratulated by
team mate Zinedine Zidane after scoring during the "Match against Poverty"
charity soccer match against the Hamburger SV Allstar Team, in Hamburg
December 13, 2011. REUTERS/Fabian Bimmer (GERMANY - Tags: SPORT SOCCER)
Related stories