Watch Video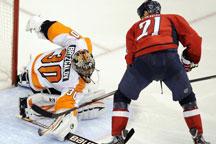 Play Video
The Eastern Conference-leading Philadelphia Flyers faced the Washington Capitals in Washington D.C. Four minutes left in the opening period, Scott Hartnell extends his goal-scoring streak to six games, putting the Flyers on top 1-0.
Seven minutes into the second period, Marc-Andre Bourdon took a slap shot from just inside the blue line and the Flyers go up 2-0 with his first NHL goal.
Wayne Simmonds made it 3-0 with five minutes to go in the period by deflecting a shot by Andrej Meszaros. Three minutes later, Maxime Talbot scored to open up a 4-0 Flyers advantage. Philadelphia led 4-0 at the end of the second period then cruised to a 5-1 win over Washington for their sixth successive win.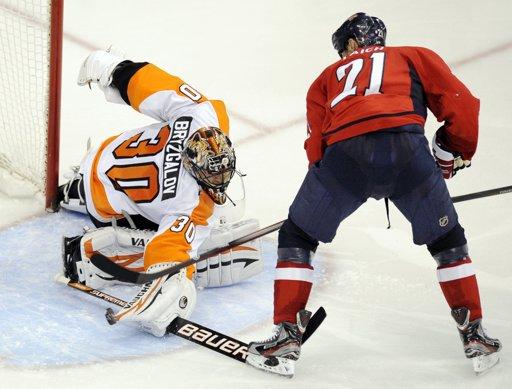 Philadelphia Flyers goalie Ilya Bryzgalov (30), of Russia, defends the goal against
Washington Capitals center Brooks Laich (21) during the third period of an NHL hockey
game, Tuesday, Dec. 13, 2011, in Washington. The Flyers won 5-1. (AP Photo/Nick Wass)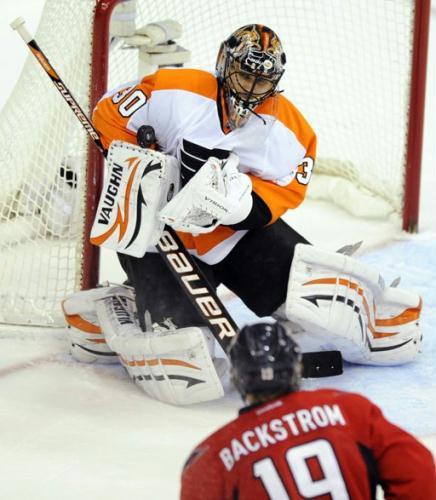 Philadelphia Flyers goalie Ilya Bryzgalov (30), of Russia, stops the puck
as Washington Capitals center Nicklas Backstrom (19), of Sweden, looks on
during the third period of an NHL hockey game, Tuesday, Dec. 13, 2011,
in Washington. The Flyers won 5-1. (AP Photo/Nick Wass)
Editor:Zhang Dan |Source: CNTV.CN