Watch Video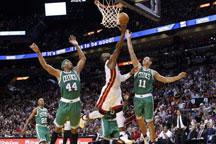 Play Video
Miami Heat hosted the Celtics on Tuesday, with Boston forward Paul Pierce still on the bench nursing a bruised right heel.
Lebron James and Dwyane Wade wanted to tell their opponents that Heat can't be stopped at least not right now. The Celts' Ray Allen found out the hard way off a strong block. Then, rookie Norris Cole with the pass and Chris Bosh with the dunk. The Heat led 69-54 at halftime.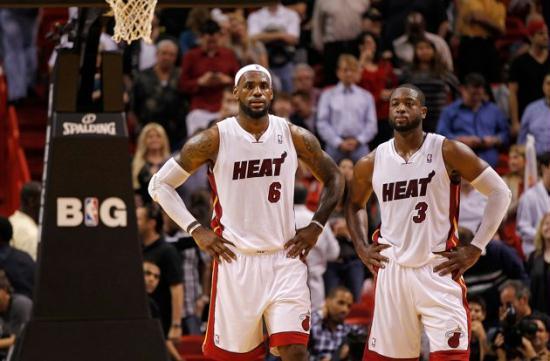 LeBron James (L) and Dwyane Wade of Miami Heat during an NBA game against the Boston
Celtics on Tuesday. The Heat held off a late challenge by the Celtics to win 115-107. (AFP
Photo/Mike Ehrmann)
Boston's Keyon Dooling cut the lead to 10 with a 3-pointer late in the third quarter and Pierce looking on from the sideline.
In the fourth quarter, Rajon Rondo to Ray Allen for a Celtics score. Rondo did more than dish; he racked up 22 points to go with his 12 assists. Dooling's triple brought Boston a little bit closer.
But Cole left a huge impression on the Celtics, and on the Miami fans. They cheered him on with the "M-V-P" chant after a shot that helped clinch the game for the home side.. The Heat beat the Celtics 115-107.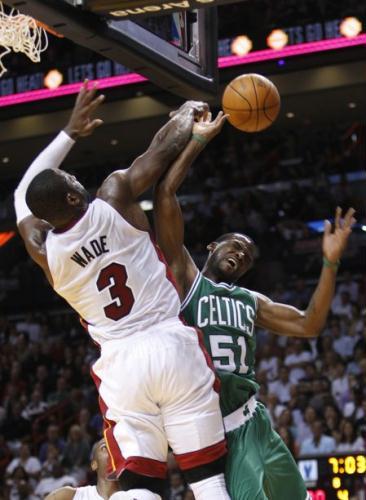 Miami Heat guard Dwyane Wade (3) blocks a shot by Boston
Celtics guard Keyon Dooling (51) during the second half of
an NBA basketball game, Tuesday, Dec. 27, 2011, in Miami.
Dooling scored 13 points in the game and Wade finished with
24 points and eight assists for Miami as the Heat defeated
the Celtics 115-107. (AP Photo/Wilfredo Lee)
Related stories