Watch Video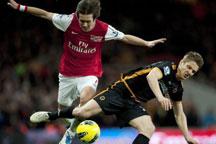 Play Video
Arsenal rolled into its match against Wolverhampton Wanderers 2 points behind Chelsea for fourth in the EPL, with a game in hand on Tuesday.
Arsene Wenger's men seemed set for a comfortable afternoon. Gervinho made his way around Wolves' keeper Wayne Hennessey. The Ivorian striker broke the deadlock after eight minutes. The Gunners took the lead.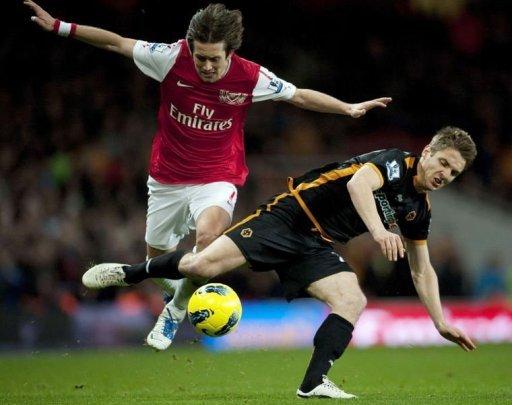 Arsenal's Czech midfielder Tomas Rosicky (L) competes for the ball against
Wolverhampton Wanderers' Kevin Doyle (R) during the English Premier League football
match at the Emirates Stadium in London. Wolves had a player sent off in the match
and the game ended 1-1
But fans at the Emirates were stunned by the visitors on the 38th. Steven Fletcher made it 1-1 with his seventh league goal of the season. Wolverhampton roared back at the half.
Arsenal's Robin Van Persie threatened midway into the second half. Hennessey made a flying save off a free kick. The Welsh keeper kept the score deadlocked.
Then, Wolves went down to 10 men with 15 minutes to go. Serbia midfielder Nenad Milijas earned a straight red card for a late challenge.
But Hennessey came to the rescue again. Thomas Vermaelen got through on goal but could not score. Arsenal failed to capitalise on its man advantage, Wolverhampton gets away with a 1-1 draw.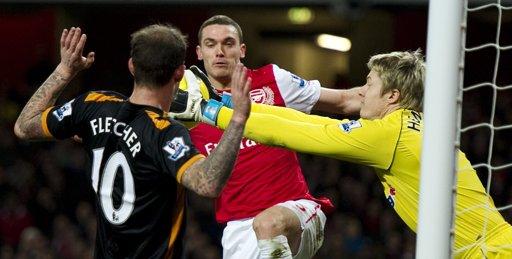 Wolverhampton Wanderers' goalkeeper Wayne Hennessey (R) grabs the ball in front of
his defender Steven Fletcher (L) and Arsenal's Thomas Vermaelen (C) during the
English Premier League football match at The Emirates Stadium in London. Wolves had
a player sent off in the match and the game ended 1-1. (AFP Photo/Adrian Dennis)