Watch Video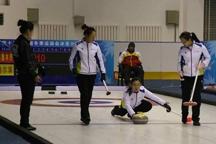 Play Video
Following the emergence of the Chinese women's national team on the world stage, one of the sports getting a little more time in the spotlight at this year's National Winter Games is curling.
And the rink responsible for bringing the sport to the masses here in China, Wang Bingyu's Harbin foursome, were on the ice for their opener on Wednesday.
The heavily favoured Harbin rink was taking on Urumqi in the round robin opener for both. The Harbin team, comprised of members of the national team,so they were expected to breeze to the win, but this one would be close.
Despite jumping out to an early 4-1 lead, the turning point for this one came in the fifth end, as Harbin and national team skip Wang Bungyu had a chance to give her team a commanding lead with the hammer and a chance to score three, but her takeout attempt is heavy, it doesn't curl and Harbin steals one.
In the seventh, Urumqi would level things up at five, but after a couple of blanked ends, and with the hammer in the tenth, an open draw for one would salvage the win for Harbin 6-5 the final.
Editor:Wang Xi |Source: CNTV.CN