Watch Video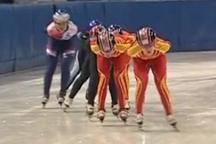 Play Video
Within the National Winter Games, there can be found a competition within the competition,and it is the rivalry between the two northern Chinese provinces of Heilongjiang and Jilin on the short track speed-skating oval.
This year, Jilin is determined to hold firm on home ice in Changchun after Heilongjiang dominated the last national games in 2008.
This weekend, the short track speed skating events will get underway at the Five Rings stadium, and the host Jilin team was back at work this afternoon.
The teams coaching staff says the main job for the athletes is to settle in and feel comfortable. The Jilin team boasts a number of national team members, but this is both a positive and a negative for the squad.
The athletes are elite, but they now have to put in a little extra work to get used to their new provincial teammates as they often train away from home. The athletes say that things seem to be going smoothly so far.
Editor:Wang Xi |Source: CNTV.CN