Watch Video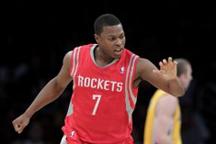 Play Video
One of the featured match-ups had the Los Angeles Lakers taking on the Houston Rockets at Staples Center.
Kobe Bryant and his teammates were playing their seventh game in 10 days.Andrew Bynum, averaging 22.7 points and 17 rebounds in his first three games back from his early season four-game suspension. He would be big against Kevin McHale's Houston Rockets.
The Rockets, strong down the middle thanks to Luis Scola and Sam Dalembert and they combine for the first quarter bucket.
But Bynum, playing a team-high 38 minutes over the night, refused to stay silent. Bynum, grabs the rebound, finishes with the dunk and is fouled in the act.Kyle Lowry who had 22 points on the night kept the Rockets in this one -- dishing to Sam Dalembert for the bucket. Houston trailed by 5 point late in the 4th.
But Kobe Bryant would hit a jumper and convert a three-point play, extending the lead to 8. Kobe finished the night with 37 points.
The Rockets refused to give in, but the Lakers defence turned this block into a fast break. Andrew Bynum does the rest en route to his first 20-20 game of career with 21 points and 22 rebounds. The Lakers hold off the Rockets 108-99.
Related stories
Editor:Wang Xi |Source: CNTV.CN