Watch Video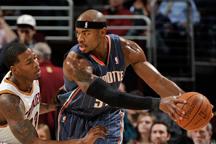 Play Video
The Oklahoma City Thunder hosted the Portland Trail Blazers. Kevin Durant and James Harden found their rhythm early. Harden with steal, and finds Durant for the lay-in. The Thunder were up five midway through the first.
Harden would then find his scoring touch, hitting a 3-pointer as the Thunder led most of the 1st quarter.
Second quarter, more good defense from the Thunder leads to another fast break. Harden sets up K.D for a dunk. Durant had 19 on the night.But LaMarcus Aldridge kept the Blazers in this one. The power forward had 30 points and eight rebounds in the game including this put back slam.
Third quarter and the Wesley Mathews comes up with a steal and he thinks he is in for the uncontested jam , but Kevin Durant makes a great block, using his 7-foot wingspan to good use on that defensive gem.
Aldridge taking the dish for the dunk and then seals the game with 19-footer from the top of the key to put Portland up 98-86. The Blazers held on to beat the Thunder 103-93.
Editor:Wang Xi |Source: CNTV.CN