Watch Video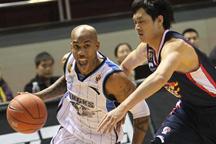 Play Video
Stephon Marbury and the Beijing Ducks met Aaron Brooks and the Guangdong Southern Tigers. This was also a clash between the top two teams in the Chinese Basketball Association, with Guangdong threatening to overtake the Ducks at the top of the league standings.
Marbury got the Ducks going with a textbook layup. He racked up 35 points and 9 assists on the night.The Ducks' Chen Lei nailed a triple to stall a Guangdong run. Beijing kept up with the streaking Tigers.
But Guangdong's Wang Zheng was the man in charge in the paint. A two handed jam meant Guangdong would maintain a healthy lead in the first half.
Zhu Yanxi hit three straight from beyond the arc. Beijing looked strong in the third quarter, as Zhu added 17 for the Ducks.
The league's defending champion took control in the final stanza. Brooks combined with James Singleton to pile up points. Singleton registered 29 points and 12 boards.
Brooks notched a game high 35 points, and Guangdong went on to throttle Beijing 112-99. The Tigers surpassed the Ducks to move into first place in the CBA.
Related stories
Editor:Wang Xi |Source: CNTV.CN