Watch Video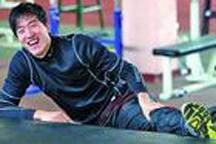 Play Video
For China's 110-meter hurdler, Liu Xiang was in Shanghai this week, for his first training session of 2012. And the 2004 Athens Olympic champion also had some other business to take care of, with his first doping test of the year. Peter Koveos has the details.
Showing off his typical big smile, Liu Xiang prepared for his first training session of the year. 2011 was a good year, as his achilles injury he sustained in 2008 is now almost completely healed.
With the guidance of his coach Sun Haiping, Liu is preparing for new challenges this year, most notably qualifying for the London Olympics. But before he settles into his training on the track, Liu must face with his first doping test of the year.
After the doping test, training resumed as Liu Xiang continues to fine tune his new starting technique which will see him take one less step before the first hurdle. The change was made in an effort to quicken his pace and lower his times.
He said,"I hope I can improve my starting technique, especially through consistent practice. I hope I will be able to make it to the first hurdle within 7 steps as proficiently as possible."
To test his training results, Liu will take part in the IAAF Istanbul World Indoor Championships in March. That event will come after two warm-up competitions in Birmingham and Stockholm next month.
Related stories
Editor:Wang Xi |Source: CNTV.CN