Watch Video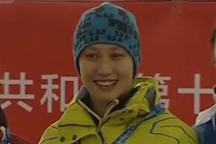 Play Video
Many of China's rising winter sports stars are making their mark at this year's National Games. They are stealing the spotlight from the established standouts, who opted not to compete in the country's seasonal showcase.
According to China's Winter Sports Administration Center, the 12th National Winter Games has already been a success in regard to organization and competition. But the Games have especially been good for some of the newcomers, who are making a name for themselves, including 15-year-old figure skater Li Zijun.
Li swept three gold medals in the ladies' events, and lived up to her billing as China's future Kim Yu-na, referring to the South Korean Olympic champion. All eyes will be on Li's progress toward the 2014 Sochi Winter Olympics.
Speed skater Zhang Hong is another rising start. He broke away in a tight contest for the all-around title.
Zhang stormed to the gold medal past several famous Olympic-caliber champion, and joined the up and coming athletes from other winter events, who should go on to help reinforce China's squad for the Sochi Games.
But the games have become less lucrative this year, with Olympic short track champions Wang Meng and Zhou Yang both failing to show up. Officials explained the reason behind two-time Vancouver Olympic gold medalist Zhou Yang's absence.
Zhao Yinggang, director of the Winter Sports Administration Center said, "It's not the organizing committee or the competition committee that decides who will compete. It's the local teams who determine their competitors. It's the fact with Zhou Yang. Zhou is now undergoing a tough period in her career. We believe her local team had a discussion with her and considering her situation, decided to pull her out."
Related stories
Editor:Wang Xi |Source: CNTV.CN