Watch Video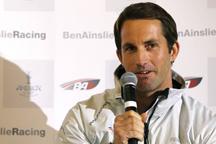 Play Video
One of Great Britain's Olympic heroes is looking for his next challenge in the America's Cup World Series.
Three-time Olympic gold medallist Ben Ainslie is forming a team that will compete in the next edition of the international sailing event. Ainslie is Britain's most successful Olympic sailor, and he set a long-term goal for the America's Cup after the London Games, without ruling out another bid for Olympic gold at Rio de Janeiro in 2016.
The 34-year-old Ainslie will go for his fourth straight Olympic gold this year. He revealed his new plan at a news conference alongside Oracle Racing CEO and four time America's Cup winner Russell Coutts.
Ainslie said, "That's right, we're here to announce a new team, Ben Ainslie Racing BAR which we're competing in the 2012/13 Americas Cup World Series in the AC45 class, so it's a completely new team. Fantastic to be back involved in the America's Cup and the America's Cup World Series, and really looking forward to the challenge ahead."
Along with announcing the launch of his new Ben Ainslie Racing team, the Olympic champ said he wants to give a boost to the America's Cup World Series. Ainslie intends to field a successful team one day at the stand-alone and more spectator-friendly championship.
He said, "You know as a racing sailor there's a huge heritage and for me as a youngster growing up my two real goals I wanted to achieve were the Olympics and the America's Cup. And I had some great experiences in the America's Cup with the other teams but very much would like to be with a winning team one day."