Watch Video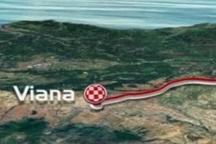 Play Video
The 2012 Vuelta a Espana is promising to put the best riders in the world to the test, as a hilly and difficult route has been unveiled by race officials.
The trek across Spain is one that cycling legend Miguel Indurain says looks to be tailor-made for climbers.
The retired Spanish great, taking in the ceremony in his hometown of Pamplona. Even though Idurain won the Tour de France five times in a row from 1991-95, he stated that the route presented in Pamplona had too many summit finishes for him and stressed it was the kind of route that should allow climbing specialists to win.
The three-week Vuelta begins on August 18th with a 16.2 km team time trial in Pamplona. The second week's hilly 42 km individual time trial and summit finishes will likely decide the outcome of the race, while the final showdown is a repeat of 2010's ascent along three kilometres of cement track to the Bola del Mundo summit finish, close to Madrid.
The race Director Javier Guillen said, "We want an explosive race from week one so we have three mountain-top finishes, Arrate, Valdezcaray and La Gallina, and from that point on we are going to see an exciting race like in 2011."
Editor:Wang Xi |Source: CNTV.CN