Watch Video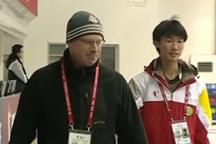 Play Video
To maitain high-level facilities for the competition, organizers of the national winter games invited a Canadian professional to make the ice. Though far away from home, the technician feels at home here in China.
Jonathan Penney comes from Canada. He loves Chinese culture, and learned some Chinese phrases soon after arriving in Changchun. He found those sentences very helpful, especially with his reticent co-worker Zhao Shizheng.
Ever since the winter games kicked off last Tuesday, Jonathan and Zhao have had a good time working together. The easygoing Canadian brought laughter to the usually serious Zhao.
The duo are in charge of making ice for all the curling events. It may look easy, but icemaking is very tricky.
There are four levels within the icemaking profession. In the top tier there are roughly a dozen people.
Jonathan is now in the second grade, a notch below the top level. This is his second tour in China, and he was also in Changchun during the 2007 Asian Winter Games.
Jonathan enjoys working with Zhao. He also seeks Zhao's help when he encounters problems living in China. He even calls Zhao dad.
A few days ago, Jonathan went shopping in downtown Chuangchun. He bought chopsticks to give as presents to his wife and children. That stems from his love of Chinese cuisine. He says he will teach his family how to use them when he gets back home. Thanks to Zhao, he has found a home away from home in Changchun.
Related stories
Editor:Wang Xi |Source: CNTV.CN