Watch Video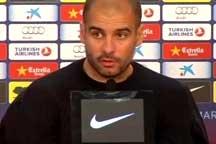 Play Video
Barcelona is getting ready to face 10th-place Betis in its next La Liga match on Sunday. Barca coach Pep Guardiola insisted that a La Liga title is still in focus for his team, despite all the attention going toward the club's King's Cup quarter-final against Real Madrid, Guardiola said the team must take every game seriously and focus on the next match.
Pep Guardiola, Barcelona coach, said, "I have always said that the league is the most important tournament. Always. It is the one that shows you have been the best day-to-day; the one that keeps you fit for all the other tournaments: Champions League; King's Cup. Once I've said that, we'll always take any match seriously, whether it is a friendly match or one that needs training for. Now it is time for the league and we are used to changing competition, trying to forget the situation we are in and focus on the game."
The King's Cup quarter-finals first leg will be played on Wednesday at the Bernabeu. The second comes on January 25. Guardiola said Barca is lucky to be able to play against a team like Real Madrid, and added there would be no time for pity or self-congratulations, whatever the result. Barca stands five points behind leader Real Madrid in La Liga going into Sunday's match.
Editor:Zhang Dan |Source: CNTV.CN