Watch Video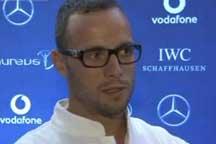 Play Video
With less then six months to go before this year's summer Olympics, athletes hoping to compete at the Games are in the final stretch of qualification. And that includes the fastest man with no feet -- Oscar Pistorius who knows there is still a lot of work to do if he is to qualify for London 2012. Peter Koveos has further details.
Oscar Pistorius started 2012 on a winning note Monday when he picked up the Laureus Disability Award in London.
Pistorius was recognized after he became the first amputee to win a track medal in the non-disabled World Championships - a silver in the four by 400 metres relay in Daegu in 2011.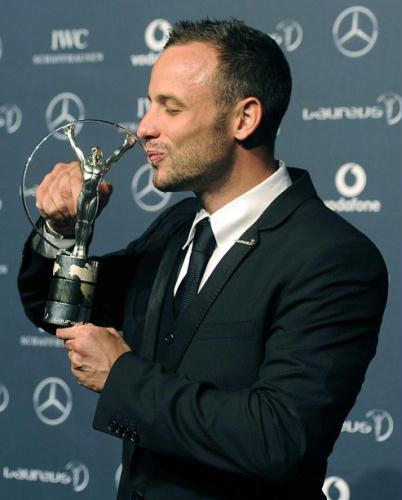 Oscar Pistorius poses for photographs with his award at the 2012
Laureus World Sports Awards, central London, February 6, 2012.
Pistorius is now setting his sights on qualifying for this year's Olympics.
Oscar Pistorius said, "I mean both the Olympic and Paralympics are extremely special to me and mean a lot to me. To qualify for the Olympics is a goal I've been trying to attain since 2005 in my 2011 season I managed to run seven 'B' qualifying times and one 'A' qualification time. I have to do that again during the calendar year, run at least one more 'A' qualification time. I'm quite a realist and there is a lot of work still to go ahead in the coming months."
Laureus Academy member and London Organizing Committee of the Olympic and Paralympic Games chairman, Sebastian Coe, recently praised the impact Pistorius has made to both the Olympics and Paralympics.
Oscar Pistorius said, "I think it makes me proud, but I have got a lot to thank many people for it. I've got a coach that I've been with for eight years, who's really let me mature in my talents and not rush me. I've got great people around me, it's not just my own goals and aspirations, I think there are a lot of people who have invested time and efforts to getting me to where I am."
Last November, Pistorius travelled to Tanzania as part of London 2012's international sports legacy program, "International Inspiration."
The initiative aims to get 12 million children across the world involved in sport.
Pistorius, a multiple Paralympic gold medal winner, says in the future, when he looks back on his career, he doesn't just want to be known just as a great Paralympian, but as a great athlete.
Oscar Pistorius said, "I believe I have been given a certain amount of talent but you must work hard every day making that talent as worthwhile as you possibly can and I don't want to look back at my career and think I could have done better. Looking back at my life I'd like to see myself as being somebody that did my best and if other people can look at me in the same respect I'd be happy with that."
Last May, Pistorius got the chance to have a look around the Olympic stadium in London. He will be hoping to compete there this summer in both the Paralympic and Olympic Games.
Related stories
Editor:Zhang Dan |Source: CNTV.CN