Watch Video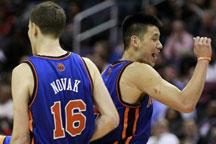 Play Video
Another chapter in the story of playmaking guard Jeremy Lin. The Harvard graduate of Chinese descent helped the Knicks defeat New Jersey and Utah in his first two league starts. This time, he had to overcome the loss of teammates Amare Stoudemire and Carmelo Anthony and guide the squad past Washington.
Lin,looking for the squad's third victory in a row. New York went on the road without Stoudemire due to a death in his family, and Anthony hurt. John Wall and the Wizards took control early on...Wall scored and Washington took a 23-17 lead going to the second quarter.
But Lin would put the Knicks on top by one on the layup.
And he would set up Steve Novak for a corner three. Lin was off and running. New York led by five.
The Wizards came back in the third quarter. They rushed back into the lead behind Wall.He had 29 points for the game, and Washington went up by 2.
But Lin took the spotlight and didn't give it up. He would drive past three Wizards players for his first NBA dunk. (replay) Lin went for 23 points and 10 boards on the night, his first NBA double-double. The Knicks were comfortably ahead going to the fourth quarter.
Tyson Chandler grabbed a Lin pass to score...New York beat Washington, 107-93.
Jeremy Lin is the biggest story in the NBA right now,the second-year guard's performance in the last three games has been spectacular. He scored 25 points and dropped 7 dimes in his first start for the Knicks against the Nets, and followed that with 28 points and 8 assists against Utah on Monday night. Another huge test is still to come: New York meets Kobe Bryant and the Lakers on Friday.
Editor:Zhang Hao |Source: CNTV.CN