Watch Video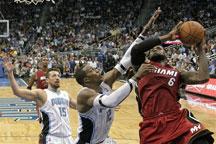 Play Video
The Orlando Magic's offense is best known for its three-point shooters, and the post presence of Dwight Howard. The Magic would aim both weapons on the Miami Heat,including 17 baskets from beyond the 3-point arc.
We pick up the action in the first quarter. The Magic miss, but Dwight Howard scores on the putback. Orlando jumped to an early 6-point lead.
Howard had 25 points and 24 rebounds,a fantasic double-double for the big man.Orlando maintained its advantage through the first quarter against the Heat.
The Magic's Chris Duhon feeds J. J. Redick, he's on-target from distance
Hedo Turkoglu finds an open Ryan Anderson for another trey. Anderson scored 24 of his 27 points in the first half.
Orlando was rolling, 44-27 over Miami.Dwyane Wade drove for the dunk.Miami went on a run to close the gap.
Shane Battier helped Wade finish with a layup.The Heat cut the lead to 5.
But the Magic put their game back into gear in the second half.Howard banked-in a hook shot.Orlando stormed back to a double digit advantage.
This was the first of four matchups between the Florida rivals in the shortened season. Wade led the Heat with 33 points.
But the Miami defense could not stop the 3's from falling.Jameer Nelson hit from the corner.
And Howard did more damage from the paint.Orlando put it all together for a 102-89 win over Miami.
Editor:Zhang Hao |Source: