Watch Video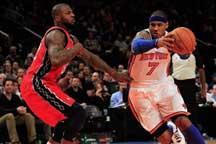 Play Video
It was back on February 4th that Jeremy Lin stepped into the New York Knicks line-up in a big way, torching Deron Williams and the New Jersey Nets for 25 points, beginning his storybook rise to NBA stardom. Well, on Monday, Williams had his chance at a little revenge as he faced off against Lin for a second time, and this time - it would be the veteran guard who would own the head-to-head matchup.
The Knicks, welcoming back Carmelo Anthony to the lineup, Melo missing seven games with a strained right groin. He would be rusty, finishing with 11 points in his return.
New York Knicks' Carmelo Anthony, left, loses the ball as New Jersey Nets' Anthony
Morrow, rear, deflects the pass from Knicks' Jeremy Lin, right, during the fourth
quarter of an NBA basketball game, Monday, Feb. 20, 2012, at Madison Square Garden
in New York. The Nets defeated the Knicks 100-92. (AP Photo/Bill Kostroun)
New York looked very good early on, some nice passing leads to Melo finding Amare Stoudemire in the paint. The Knicks went 11-3 up with the 3-point play.
Baron Davis over a herniated disc problem, making his debut for New York and he ties it at 27. That three was his only basket on the night.
The Nets would have a big second quarter - DeShawn Stevenson's four point play, pushing New Jersey 9 points ahead.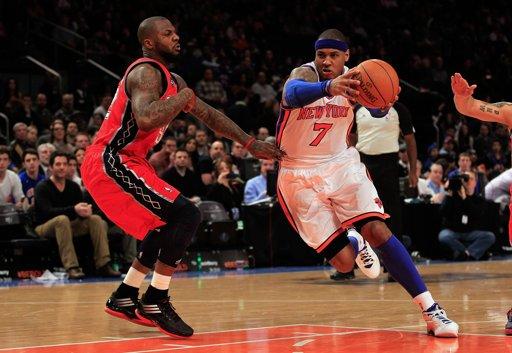 NEW YORK, NY - FEBRUARY 20: Carmelo Anthony #7 of the New York Knicks drives against
DeShawn Stevenson #92 of the New Jersey Nets at Madison Square Garden on February 20,
2012 in New York City.
Later on, MarShon Brooks would convert the 4-point play. The Nets led by 8 at halftime. Then, in the 3rd, Williams took this one over. The 4-point play would give New Jersey an 11-point lead.
The All-Star guard would notch another, one of eight 3-pointers overall. And again, Williams would bury a third straight 3-pointer during the stretch. He had 18 in the third quarter alone. The Nets were up by 16 late in the period.
Midway through the final quarter, Kris Humphries would cut to the rack for a layup. New Jersey never looked back.
Williams, dropping a season-high 38 on the night as the Nets beat the Knicks 100-92. Lin, solid in the loss though with 21 points, 9 assists and 7 boards.
Related stories
Editor:Zhang Dan |Source: CNTV.CN