Watch Video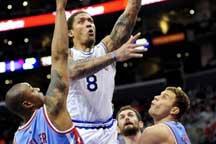 Play Video
The Minnesota Timberwolves went on the road against the Los Angeles Clippers. It was the first of three games in three nights for the T-Wolves, and they would try to notch the franchise's 47th win against the Clippers.
Minnesota's won more games against the Clippers than against any other team. But Blake Griffin vowed to help reverse that trend with a lay-in. The Clippers led by 8 early. Griffin had 18 points in the first quarter alone. He would convert the 3-point play for the Pacific division leaders.
But Minnesota staged a competitive second quarter. Derrick Williams' three brought the Wolves within two. Then the Clippers started their own run. Off the turnover - Mo Williams led the fast break and delivered to DeAndre Jordan for the ally-oop jam. Clippers up by six.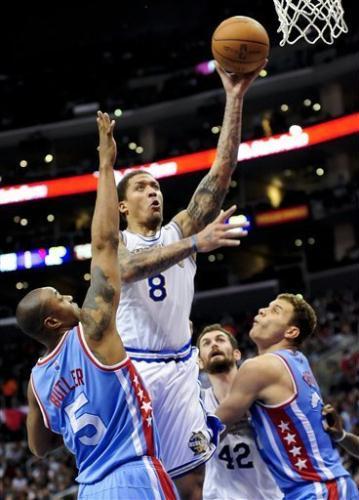 Minnesota Timberwolves forward Michael Beasley (8) drives
between Los Angeles Clippers forwards Caron Butler (5) and
Blake Griffin (32) for a basket as teammate forward Kevin
Love (42) looks on in the first half of an NBA basketball
game, Tuesday, Feb. 28, 2012, in Los Angeles. (AP Photo/Gus
Ruelas)
Michael Beasley's jumper cut the deficit to four deep in the third - the T-Wolves are another improving NBA team. And then Minnesota took the lead. Derrick Williams hit the three and drew a foul. He made the free throw to put the Timberwolves in front by three.
They stretched the lead at the end with some clutch outside shooting. Derrick Williams knocked down another triple - Minnesota by 8. Williams had 13 points in the fourth quarter. Kevin Love scored 10 on the night and Beasley wrapped up the win. The T-Wolves stunned the Clippers 109-97.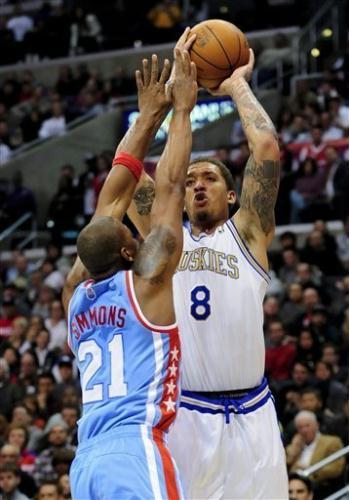 Minnesota Timberwolves forward Michael Beasley (8) shoots
over Los Angeles Clippers forward Bobby Simmons (21) in
the first half of an NBA basketball game, Tuesday, Feb.
28, 2012, in Los Angeles. (AP Photo/Gus Ruelas)
Editor:Zhang Dan |Source: CNTV.CN