Watch Video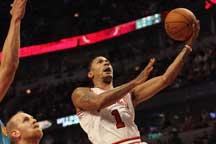 Play Video
Scottie Pippen was in the house to see the Bulls meet the New Orleans Hornets. In the third quarter, Luol Deng hits from distance to give Chicago a 4-point lead.
Trevor Ariza made a layup, trying to get the Hornets' second half of the season off to a positive start. But Derrick Rose was back and in good shape for Chicago. The Bulls are expected to contend for the Eastern conference crown.
And Chicago showed some second half "D" - Carlos Boozer with the block, and Rose scoring in transition. Chicago led by 10. Ariza brought the Hornets back. He hit a three to make it a 2 point game - Ariza with 16 on the night.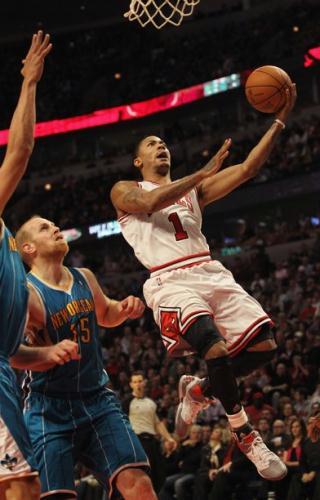 CHICAGO, IL - FEBRUARY 28: Derrick Rose #1 of the
Chicago Bulls drives to the basket past Chris Kaman
#35 of the New Orleans Hornets on his way to a
game-high 32 points at the United Center on February
28, 2012 in Chicago, Illinois. The Bulls defeated the
Hornets 99-95.
Marco Belinelli added a driving basket to put the Hornets up by four. But the Bulls turned it around late. Joakim Noah tapped in a Rose miss to tie it at 95.
Then Rose hit a rain-making jumper from the corner - Chicago back on top by two. And solid, close-out defense forced the Hornets' Jarrett Jack into a bad miss at the end. The Bulls beat New Orleans, 99-95.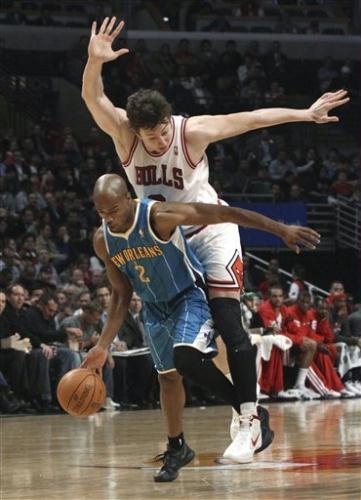 Chicago Bulls center Omer Asik, top, collides with New
Orleans Hornets guard Jarrett Jack during the first half of
an NBA basketball game Tuesday, Feb. 28, 2012, in Chicago.
(AP Photo/Charles Rex Arbogast)
Editor:Zhang Dan |Source: CNTV.CN