Watch Video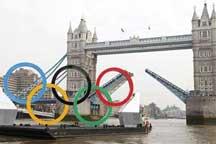 Play Video
Great Britain marked the 150 day countdown to the London Olympics by launching giant Olympic rings on the River Thames. The rings travelled along key points of the river to highlight to upcoming Games, while Mayor of London Boris Johnson announced free cultural events that will take place throughout the city to celebrate the event.
Johnson says preparations for the Olympics are right on track, and predicts they will be spectacular, while lacking the budget of the 2008 Beijing games. Catherine Drew has this report from London.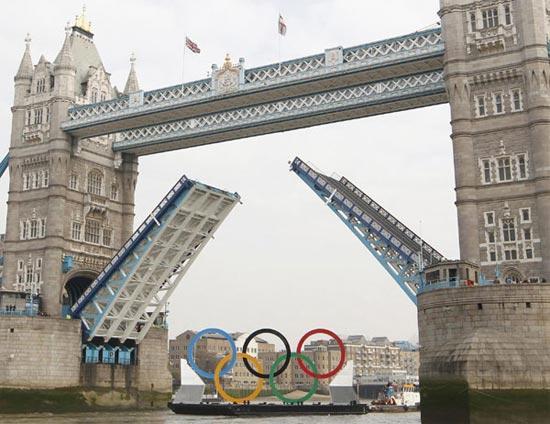 Olympic rings mounted on a barge pass under Tower Bridge during a promotional event on the
River Thames in London, Feb 28, 2012. [Photo/Agencies]
The 150 day countdown has been marked by an unusual sight as these 11-metre-high and 15-metre-wide rings travelled London's River Thames taking in key city landmarks along the way.
Tower Bridge was raised to allow the rings to travel further east. London's Mayor Boris Johnson witnessed the event and was keen to say that London, like Beijing, at its 150 day mark, has preparations well in hand.
Boris Johnson, Mayor of London, said, "We greatly admired what they did in Beijing and I greatly enjoyed my time there but we're on time and under budget, still half a billion to go, so and as see the detailed last details being made. "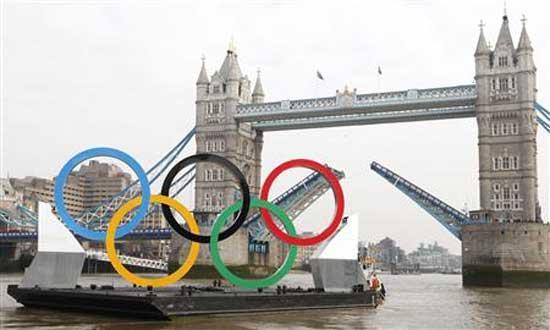 Olympic rings mounted on a barge are manoeuvred to pass under Tower Bridge during a
promotional event on the River Thames in London February 28, 2012.
To celebrate the 150 day mark, the Mayor announced a host of free arts and cultural events that would take place for the 2012 Cultural Olympiad. Dance, opera, theatre, music, sculpture and art events will take place in every borough of the capital and across much of the country as well.
Ruth Mackenzie, director of London 2012 Festival, said, "We have big ambitions to show tourists from china what a wonderful city this is and how there are all these sites, absolutely free great art from around the world as well as great sport."
The plan to make free cultural events available to all has been part of London organizers strategy to rival the staging of former Olympics like Beijing, which enjoyed a considerably higher budget.
Boris Johnson, Mayor of London, said, "I said at the time, not spend our defense budget but as said at the time, we were going in our own English way to have a show every bit as good."
Whilst a steel band entertained the crowds gathered at Tower Bridge, local school children showed they are enthusiastic about the upcoming Games, particularly now the 150 day countdown has begun.
There is awareness here, perhaps even sensitivity that the London Games do not enjoy the budget that the Beijing Olympics had however the organizers are determined that the best of British will be on show for all international visitors to enjoy.
Editor:Zhang Dan |Source: CNTV.CN