Watch Video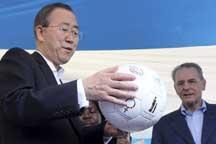 Play Video
An African nation's sports training site is getting some high-profile support. Two top international leaders helped shine a spotlight on Zambia's Olympic Youth Development Centre, a pilot project that is already being repeated in Haiti.
IOC President Jacques Rogge and UN Secretary-General Ban Ki-moon visited the Centre, which includes facilities for sports from athletics to volleyball, and welcomes prospective sports stars from neighbouring countries.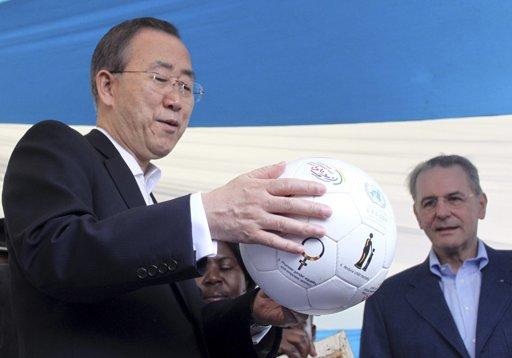 FILE PHOTO: United Nations Secretary General Ban Ki Moon reads the inscription on a
soccer ball before presenting it to a youth at Fountain of Hope Orphanage in Lusaka,
February 25,2012. Also pictured is International Olympic Committee president Jacques
Rogge (R).REUTERS/Mackson Wasamunu (ZAMBIA - Tags: POLITICS SPORT)
It also offers educational programmes aimed at tackling poverty, crime and health issues. Among the Zambians hoping to qualify for the London 2012 Olympics is sprinter Titus Kafunda Mukhala.
Titus Kafunda Mukhala said, "For me to take part in the London 2012, that would be a greatest achievement for me because few Zambians have managed to qualify for London 2012. My main goal is to reach the finals."
Ban Ki-Moon and Jacques Rogge had praised for the Center after unveiling a plaque. And Rogge said little needed to be changed for the planned Haitian venture.
Jacques Rogge said, "It's a great success. Over a month's time there are more than 11,000 young kids that come and practice sport and play. This corresponds really to a need; there was a need for Zambia to have that. It was a pilot project, but I believe that for the second project that we are now building in Haiti very little has to be changed."
Mr Ban said the center gives young people a chance to become better citizens through sports and life skills. He also said sport has the power to conquer all of society's troubles.
Editor:Zhang Dan |Source: CNTV.CN