Watch Video
Play Video
The Oklahoma City Thunder traveled to Atlanta and the spotlight fell on All-Star game MVP Kevin Durant. K-D looked to help the team with the league's best record reach eight straight wins for the first time since February 2010.
The Hawks' Josh Smith came off a big game against Milwaukee on Friday. On the other side, Durant looked determined to win at Atlanta.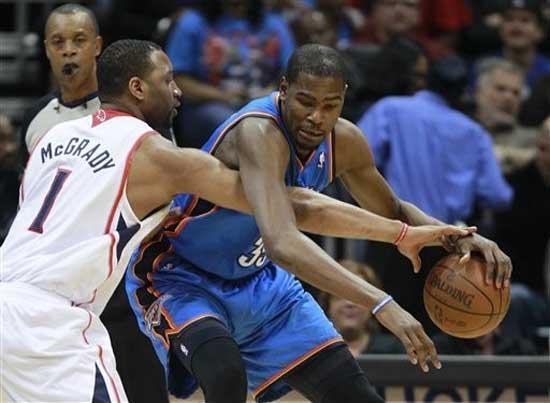 Oklahoma City Thunder forward Kevin Durant (35) drives against Atlanta Hawks forward
Tracy McGrady (1) in the the first half of an NBA basketball game Saturday, March 3,
2012, in Atlanta.
The home side stormed off to an early lead, but OKC came back. Durant cut the deficit to six deep in the second quarter. Midway through the third, Durant drove to the baseline, Serge Ibaka converted on the slam...the Thunder kept pace with the Hawks in the second half.
Final seconds of the quarter, Thunder up by two, but Jannero Pargo beats the buzzer for three. Atlanta went back on top by one. Smith then came up with a power slam. The Hawks by six.
But Durant threatened to get the last word. He made it a one-point game. K.D. finished with 35 points on the night. Smith answered with a three-pointer of his own. Atlanta's lead returned to four points. Smith led Atlanta with 30 overall.
He was solid down the stretch as Atlanta won it 97-90, snapping the Thunder's 7-game winning streak.
Josh Smith #5 of the Atlanta Hawks goes to the basket against
Serge Ibaka #9 of the Oklahoma City Thunder on March 3, 2012
at Philips Arena in Atlanta, Georgia.
Editor:Zhang Rui |Source: CNTV.CN