Watch Video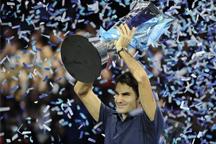 Play Video
In men's tennis, British star Andy Murray came up with one of the biggest wins of the year by defeating world number one Novak Djokovic in the Dubai semifinals. His reward was a tough final matchup against Roger Federer. The Swiss superstar has won the Dubai title four times, and looked for his 72nd career title.
This hardcourt battle saw both players going the extra mile. Watch this rally in the sixth game of the opening set, Federer uses a drop shot, Murray recovers it, then the Swiss puts him away with a backhand volley winner.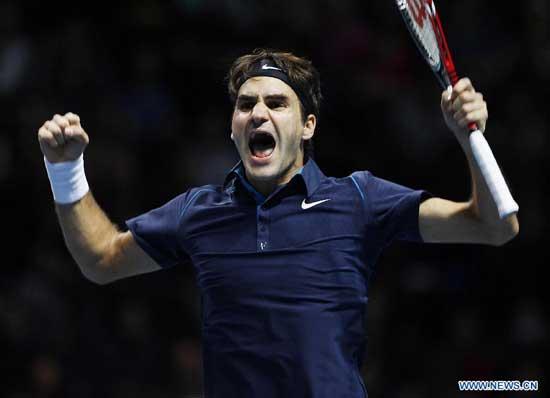 Roger Federer of Switzerland reacts as he celebrates winning the ATP World Tour
singles final against Jo-Wilfried Tsonga of France in the O2 arena in London, Sunday,
Nov. 27, 2011. (Xinhua/Tang Shi)
Federer tied the set 3-all.
He broke Murray's serve at 5-all in the first. The Brit suffered a decisive letdown and Federer closed out the opening set 7-5.
Then, Federer broke serve again to go ahead 3-1 in the second set. Murray struck back with two creative lobs to square the set at 3-3.
But Federer was unstoppable late in the set. He hit a series of stinging forehands to reach match point, and sealed victory in straight sets. Federer claimed his 72nd ATP tour title. The 16-time grand slam winner talked about becoming the world number one again after claiming his fifth Dubai crown.
Federer said: "We will see how things are, maybe at Wimbledon or at the U.S. Open, I don't know, I mean, I obviously need to win a big one to get all the way to world number one but right now I am cementing my place in the top three, top four which is a great thing. I had a great run since the US Open which I am very pleased about it."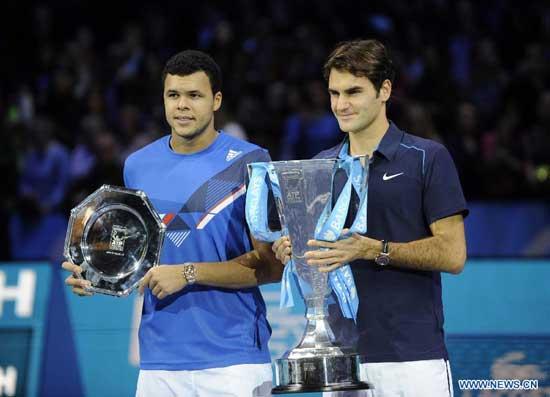 Roger Federer of Switzerland (right) holds his winners trophy as he poses for the
photographers with runner up Jo-Wilfried Tsonga of France following their singles
final tennis match at the ATP World Tour Finals, in the O2 arena in London, Sunday,
Nov. 27, 2011. (Xinhua/Zeng Yi)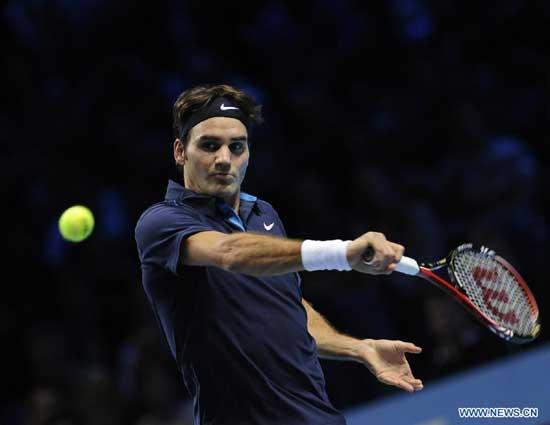 Roger Federer of Switzerland plays a return to Jo-Wilfried Tsonga of France during
their singles final tennis match at the ATP World Tour Finals, in the O2 arena in
London, Sunday, Nov. 27, 2011. (Xinhua/Zeng Yi)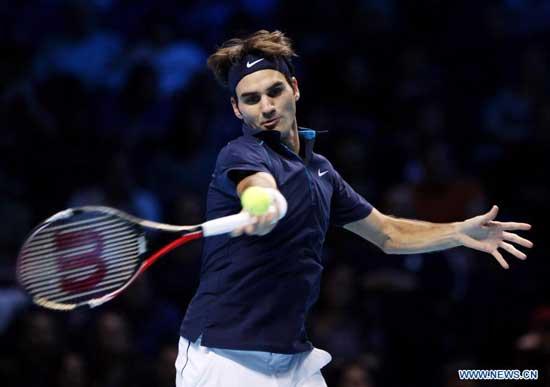 Roger Federer of Switzerland plays a return to Jo-Wilfried Tsonga of France during
their singles final tennis match at the ATP World Tour Finals, in the O2 arena in
London, Sunday, Nov. 27, 2011. (Xinhua/Tang Shi)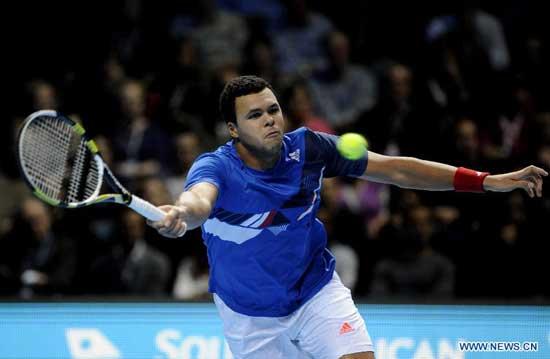 Jo-Wilfried Tsonga of France plays a return to Roger Federer of Switzerland during
their singles final tennis match at the ATP World Tour Finals, in the O2 arena in
London, Sunday, Nov. 27, 2011. (Xinhua/Zeng Yi)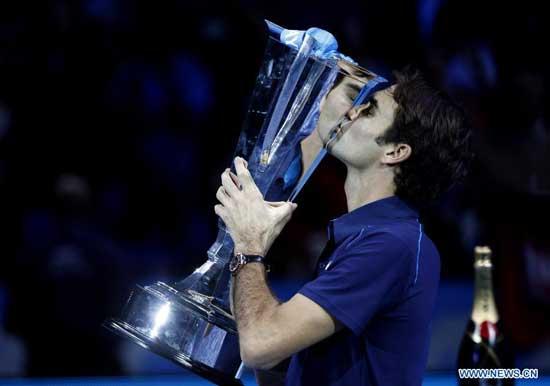 Roger Federer of Switzerland kisses the trophy after winning his final match
against Jo-Wilfried Tsonga of France, in 2011's ATP World Tour Finals, in
London, Britain, Nov. 27, 2011. Federer won 2-1 to claim the tital for the
sixth time. (Xinhua/Tang Shi)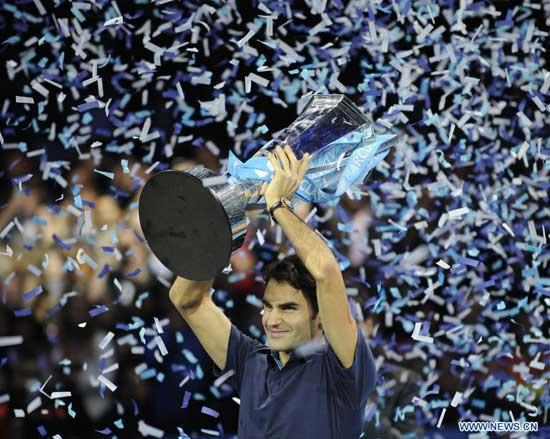 Roger Federer of Switzerland poses with the trophy after winning his final match
against Jo-Wilfried Tsonga of France, in 2011's ATP World Tour Finals, in London,
Britain, Nov. 27, 2011. Federer won 2-1 to claim the tital for the sixth time.
(Xinhua/Zeng Yi)
Related stories
Editor:Zhang Rui |Source: CNTV.CN