Watch Video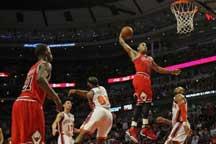 Play Video
The phenomenon known as Lin-sanity seems to have run its course in a New York Minute. The Knicks are starting to realize the team they have assembled may not be good enough to make it to the post-season.
New York had lost 5 straight games, seven of their last nine, and were clinging onto the final playoff berth in the Eastern Conference when the club hosted the league-leading Chicago Bulls on Monday.
Joakim Noah and Chicago have an NBA best 35-9 record. Noah's dunk gave the Bulls a two-point edge.
Derrick Rose was able to cut through the lane all night against New York. But the Knicks were up to the task and would match the Bulls bucket for bucket early on. Jeremy Lin found Carmelo Anthony for the fast break hoop to tie the score in the first half.
Lin had a decent game with 15 points, but that came on 4 of 11 shooting. New York was up two at the break.
Second half, expert passing led to an easy Bulls score. Carlos Boozer finishes with a wide-open lay-up. Boozer had 15 on the night.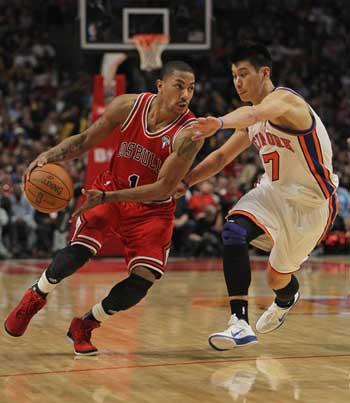 Derrick Rose of the Chicago Bulls drives past Jeremy Lin of
the New York Knicks at the United Center on March 12, 2012
in Chicago, Illinois. The Bulls defeated the Knicks 104-99.
The Bulls defense forced turnovers which Chicago turned into fast-break run-outs. Few players are faster on the break than Rose, the reigning league MVP kept Chicago ahead.
Amare Stoudemire poured in 20 points to generate hope for a New York comeback, but he was mostly silent in the decisive fourth quarter.
Rose and the Bulls would go on a 12-2 run in the middle of fourth and start to pull away.
That run was highlighted by a monster throwdown by the 6-3 guard. Rose finished the night with 32 points.
The Knicks would make a late push, but it would not be enough. Chicago holds on for a 104-99 win and hands the Knicks their sixth straight loss.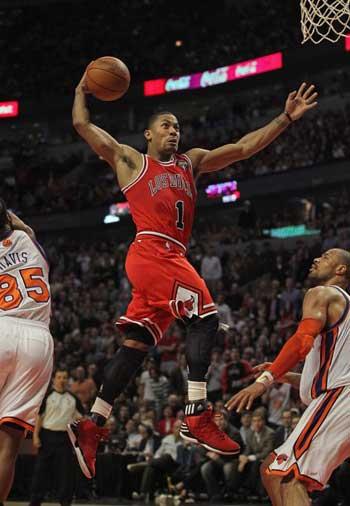 Derrick Rose #1 of the Chicago Bulls goes up for a dunk
between Baron Davis #85 and Tyson Chandler #6 of the New
York Knicks on his way to a game-high 32 points at the
United Center on March 12, 2012 in Chicago, Illinois.
Editor:Liu Fang |Source: CNTV.CN