Watch Video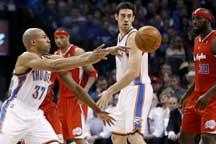 Play Video
Derek Fisher made his debut for the Thunder against the Clippers. Houston cut Fisher after trading for him and he signed with Oklahoma City. The home crowd gave him a nice ovation - then it was game-on.
But OKC would not really need the veteran's help on this night. The team's young guns had more than enough power - James Harden with the steal and dunk - OKC up 6. The second quarter was the difference-maker. The Thunder would outscore the Clippers 33-20 - guard Russell Westbrook finished with 19.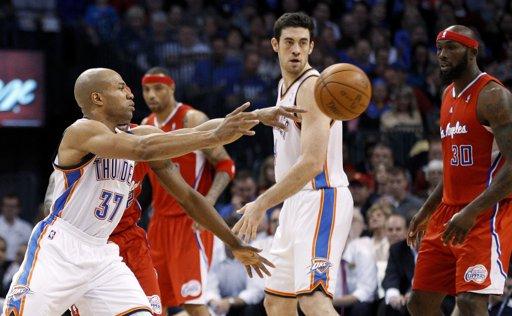 Oklahoma City Thunder guard Derek Fisher (37) passes off in front ofcenter Nick
Collison, center, and Los Angeles Clippers forward Reggie Evans (30) in the second
quarter of an NBA basketball game in Oklahoma City, Wednesday, March 21, 2012. (AP
Photo/Sue Ogrocki)
Forward Kevin Durant would end up with 32 points on the night - Oklahoma City took a 16 point lead into the half. Not many highlights from the Clippers, but at least they lived up to their Lob City nickname. DeAndre Jordan finishes the alley-oop.
Then Fisher took the floor. He would get into the act from long-distance nailing the triple. The ex-Lakers' vet had 5 points for his new club. The Thunder win it, 114-96, over the Clippers.
Editor:Zhang Dan |Source: CNTV.CN