Watch Video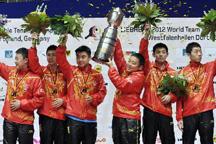 Play Video
The mighty Chinese table tennis team crushed their German rivals 3-0 to win their sixth straight men's team world title here on Sunday.
In front of a packed crowd of 10,000 spectators in the Westfalenhallen, Zhang Jike put the 17-time world champions in the driving seat with a 3-2 (12-10, 11-6, 9-11, 10-12, 11-6) win over the hosts' top player Timo Boll.
Zhang, the world championships and World Cup singles champion, overpowered the 31-year-old German in the first two sets before he lost his concentration and precision, allowing the 6th-ranked rival to claw back.
The 2nd-ranked Chinese didn't give much chance to Boll in the deciding set, leading all the way to the victory.
Ma Long, world No. 1, followed up with a 11-3, 11-9, 13-11 crushing of 10th-rated Dimitrij Ovtcharov, who had squandered a 8-3 lead in the second set and a set point in the third.
Wang Hao, world No. 3, overcame an early setback to beat the hosts' rising star Patrick Baum 8-11, 11-5, 11-5, 12-10.
Chinese team manager Huang Biao spoke highly of Zhang Jike, saying his superb skills and strong nerves were a key to the victory.
"Zhang played a more advanced game against Boll," said Huang. "He is more powerful and able to produce more spin."
"The first game is always difficult. Zhang didn't choke when the big moment came," he added.
South Korea and Japan, the two semifinal losers, shared the third place.
Later in the day, China will take on Singapore in the women's team final.
Related stories
Editor:Shi Jierui |Source: CNTV