Watch Video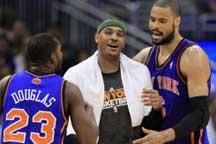 Play Video
Everyone thought the issue was resolved after the big man excercised his option to stay in Florida for another year, but now it's taken another twist. An official with the team claims the superstar centre asked the Magic to fire head coach Stan Van Gundy earlier this year. Howard denies he asked for the coaches dismissal.
Howard and Van Gundy distanced themselves from the report, and the on-court action continued.
Orlando hosting the Knicks and the New Yorkers get off to a good start. Iman Shumpert dunks off a rebound.
The Knicks were effective from outside, too. They hit seven of their first 10 three pointers and took a double digit lead.
Carmelo Anthony led a balanced scoring attack. Melo had 19 on the night.
Orlando was going in the opposite direction, Baron Davis' bad pass ends up back in his hands and he delivers an alley-oop to Tyson Chandler. Knicks up 15.
Dwight Howard's play didn't do much to help alleviate the off-court drama, he didn't score he first basket till late in the third quarter.
The Knicks manhandled the Magic 96-80, handing Orlando its fifth straight loss.
Editor:Liu Fang |Source: CNTV.CN