Watch Video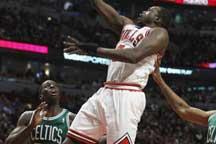 Play Video
Luol Deng and the Bulls hosting the Celtics. Paul Pierce gets a triple and Boston takes an 8-point lead.
Second quarter, the Bulls wake up: check out the finish from Joakim Noah, 17 for the big man on the night.
Third quarter now and the beantowners go up three, Brandon Bass gets the putback, the Celts back in charge. Then the Bulls would turn the tide for good, John Lucas hits one from the parking lot.
Then the Chicago 'D' creates the offense, Noah's block leads to a fast break hoop for Loul Deng. Bulls up 6.
Deng would finish with 26 on the night. He picked up the slack in Derrick Rose's absence.
The former Duke University star turned playmaker, finding fellow ex-Blue Devil Carlos Boozer for the slam. Chicago comes back to upend Boston 93-86.
Other games on Thursday, the Clippers downed the Kings, while the Pistons were able to get past the Wizards.
As for the playoff picture, the Bulls win increases their lead over Miami for the top spot in the East to two games. Boston stays in fourth despite the loss. Orlando's loss drops them into sixth. Philly remains in seventh and the Knicks create a little breathing room between themselves and ninth place Milwaukee.
Out West things remain the same, OKC and San Antonio fighting for first. The Lakers lead the Clippers in the fight for third. Memphis and Dallas are battling for fifth and sixth, while Houston, Denver and Phoenix are battling for the final two spots.
Editor:Liu Fang |Source: CNTV.CN