Watch Video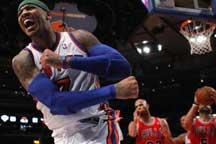 Play Video
After missing the past 12 games with a groin strain, Derrick Rose was back in the Bulls' line-up this weekend in New York. But the league's reigning MVP found himself upstaged by the Knicks' Carmelo Anthony.
It's only the 11th game this season the Bulls have had a healthy starting line-up. Late in the game Rose hits from behind the arc, and is fouled in the process. Chicago stretches the lead to 10 in the final quarter.
New York Knicks' Carmelo Anthony and fans react after Anthony scored a 3-point basket
in the closing seconds of overtime in an NBA basketball game against the Chicago
Bulls, Sunday, April 8, 2012, at Madison Square Garden in New York. The Knicks won
100-99. (AP Photo/Mary Altaffer)
But the Knicks claw back. Carmelo Anthony makes it a one possession game with less than a minute to play. That left Rose with a chance to ice it from the free throw line, he not only misses the first, but the second also, so still time on the clock for New York to tie it. Carmelo does not hesitate. The huge three sends the game to overtime.
In the extra frame, Chicago gets in front again thanks to Rose with 29 in all. But overtime belonged to Carmelo, first the tough drive making it a 2-point game.
New York Knicks forward Carmelo Anthony reacts after making a shot and being fouled by the
Chicago Bulls in the fourth quarter of their NBA basketball game at Madison Square Garden
in New York, April 8, 2012. (Xinhua/ Reuters Photo)
And then in the final seconds, New York down by two when Anthony finds a huge three to put the Knicks up by 1. He makes 43 on the night.
Chicago has one last chance to go ahead, but they don't get a good play off and Rose is forced into a tough shot that will not fall. New York holds on for a 100-99 win.
New York Knicks forward Carmelo Anthony (7) celebrate after defeating the Chicago Bulls
in their NBA basketball game at Madison Square Garden in New York, April 8, 2012.
(Xinhua/ Reuters Photo)
New York Knicks forward Carmelo Anthony shoots against Chicago
Bulls forward Luol Deng (R) in the third quarter of their NBA
basketball game at Madison Square Garden in New York, April 8,
2012. (Xinhua/ Reuters Photo)
Editor:Zhang Dan |Source: CNTV.CN