Watch Video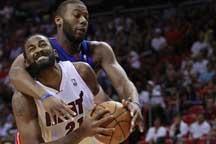 Play Video
Miami played Detroit without Dywane Wade because of a bad ankle. But it wouldn't matter as King James picks up the slack, first the shot in the lane.
Then the emphatic follow off a missed lay-up. Heat up by 10 at halftime. They extend the lead in the second, Chris Bosh scoring this for 22 and 9 on the night.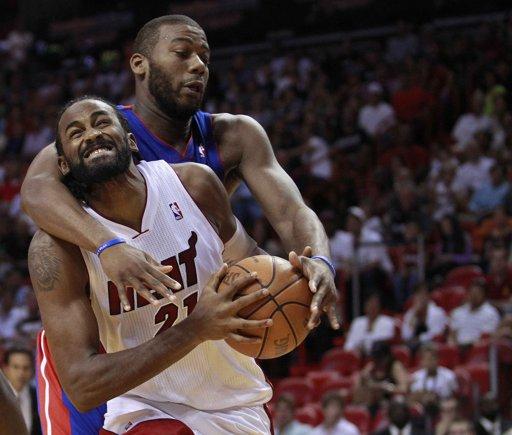 Miami Heat's Ronny Turiaf (front) moves against Detroit Pistons' Greg Monroe in the
first half of their NBA basketball game in Miami, Florida April 8, 2012. REUTERS/
Andrew Innerarity (UNITED STATES - Tags: SPORT BASKETBALL)
The Heat stretch the lead on the next possession, James hits from the land beyond to notch 26 points. Miami toying with Detroit, Mario Chalmers finds little resistance on the way to the rim. Miami wins this one easily 98-75.
As for other matches on Sunday, New Jersey downs Cleveland in overtime. The 76ers continued their recent struggles falling to the Celtics. Oklahoma City put an end to a three game losing streak by downing Toronto. San Antonio take their winning streak to 11 by downing Utah and Houston crowned the Kings.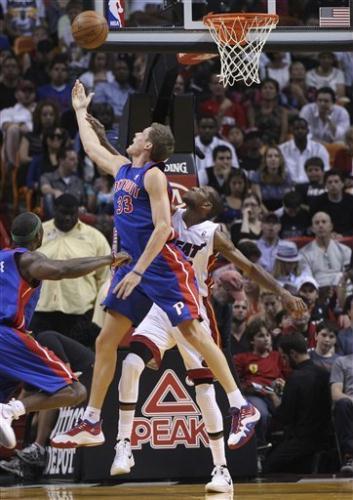 Miami Heat's James Jones (22) applies pressure as Detroit
Pistons' Jonas Jerebko (33) shoots during the first half of
a NBA basketball game in Miami, Sunday, April 8, 2012.
(AP Photo/J Pat Carter)
And here is a quick look at the Eastern Conference standings. Despite the loss, the Bulls still hold onto top spot over Miami ahead of Indiana and Boston. Orlando and Atlanta are locked in a battle for fifth and sixth, while New York and Philly hold down the final two spots. Milwaukee is on the outside looking in.
In the West, San Antonio and Oklahoma City are in a battle for top spot. The Lakers lead the Clippers by a half game in the fight for third. Memphis holds down fifth. While Houston, Dallas, Denver and Phoenix are in a tussle for the last three playoff spots.
Editor:Zhang Dan |Source: CNTV.CN