Watch Video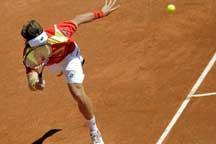 Play Video
Quarter final action in the Davis Cup continued this weekend with the defending champions Spain looking to move into the semi's with a win over Austria. Spain ahead 2-1 in the best of five and they send out David Ferrer to take on Juergen Melzer.
The first set was close and appeared headed for a tie-break, before Ferrer broke Melzer in the 12th game leading 6-5 - he gives Spain the opener 7-5.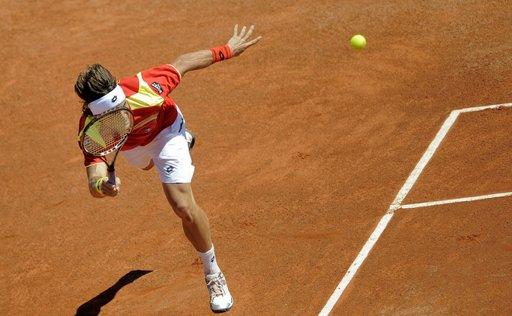 Spain's David Ferrer returns a ball against Austrian Jurgen Melzer during the fourth
Davis Cup quarter-final match Spain vs Austria on April 08, 2012 in Oropesa. David
Ferrer handed holders Spain a place in the Davis Cup semi-finals after beating
Jurgen Melzer 7-5, 6-3, 6-3 to give the hosts an unassailable 3-1 lead over Austria
in their World Group quarter-final tie. (Photo by Jose Jordan /AFP/Getty Images)
In the second set, Spain's world number 6, leads 4-3 and again, picks up a timely break. Ferrer's forehand giving him a 5-3 lead. He serves out the second to take it 6-3.
And with a chance to move Spain into the final 4 with a third set win over his 21st ranked Austrian opponent, a great backhand gives Ferrer total control.
Leading 5-3, with a chance to end it, Ferrer does just that, as Melzer's backhand goes long. Ferrer in straight sets as Spain moves on to face the United States in the semi-finals.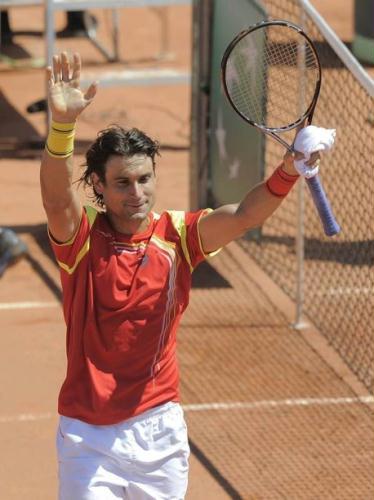 Spain's David Ferrer celebrates after winning the fourth Davis
Cup quarter-final match Spain vs Austria against Austrian
Jurgen Melzer on April 08, 2012 in Oropesa. David Ferrer
handed holders Spain a place in the Davis Cup semi-finals
after beating Jurgen Melzer 7-5, 6-3, 6-3 to give the hosts
an unassailable 3-1 lead over Austria in their World Group
quarter-final tie. (Photo by Jose Jordan /AFP/Getty Images)
Editor:Zhang Dan |Source: CNTV.CN