Watch Video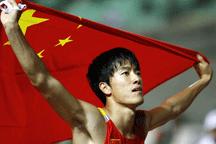 Play Video
China's hurdling icon, Liu Xiang, will be competing in his third Olympics in London. He felt the joy of victory as the Olympic Champion in 2004, and the agony of defeat in 2008, as an achilles injury prevented him from racing in Beijing.
Liu Xiang, injury forced him out of Beijing Olympics says,"I think I have very strong ability, it's impossible for me to drop out of the Olympics,My feet don't work. I have to face the reality. I have to dissappoint the spectators. I have to say sorry to the fans. Thanks for the support. I hope the fans can understand."
Liu Xiang, in 2009 Shanghai Golden Grand Prix says, "I ran so fast, that I could barely stop myself. I am very very happy, I hope this means I can get back to my old form."
Liu Xiang, as champion of Guangzhou Asian Games says,"I didn't run 100 percent, my foot is still not completely healed. I still need to practice. I hope I can be faster at next year's World Championships and the 2012 London Olympics."
Liu Xiang, Chinese 110m hurdler says,"I have changed my start, it is now only 7 steps instead of 8,I used to start my race off the right foot, but now I changed to the left foot. For me, it's very difficult."
Liu Xiang, 2004 110m hurdle Olympic Champion says,"I am a former Olympic Champion. My dream has been realized.I should say it's been a struggle, but I have had full prepartion to face the frustration and challenge.I hope I can have a wonderful 2012."
Editor:Wang Xiaomei |Source: CNTV.CN