Watch Video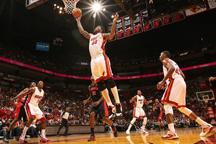 Play Video
The Miami Heat looked to secure their No.2 spot in the Eastern Conference with a Wednesday night win against Toronto. LeBron James continued to build his case for a third career MVP award, as the Heat played without Dwyane Wade and Chris Bosh in their lineup.
So all eyes were on LeBron - could the Heat win with only one of the "big three" on the floor against Toronto? He used an acrobatic layup to tie the game early in the first quarter. But the Raptors would return to the point with Ed Davis knocking down the slam. The Raptors played tough against Miami.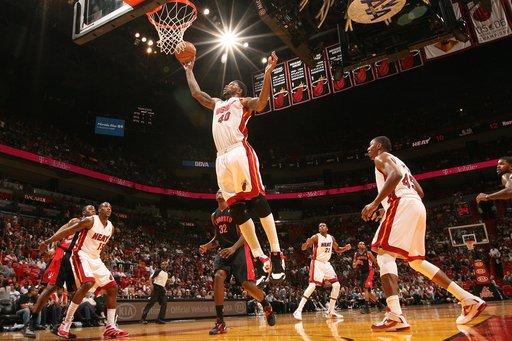 MIAMI, FL - APRIL 18: Udonis Haslem #40 of the Miami Heat goes to the basket during
the game between the Miami Heat and the Toronto Raptors on April 18, 2012 at American
Airlines Arena in Miami, Florida. (Photo by Issac Baldizon/NBAE via Getty Images)
In the second quarter, Miami's Udonis Haslem drove in for a dunk and drew a foul. Haslem hit the floor hard, but completed the 3-point play. James used a sharp pass to help Haslem score.
Toronto kept it close. James Johnson stole the ball and Gary Forbes notched the bucket with two seconds left in the first half, just enough time for LeBron to beat the buzzer at the other end. Mike Miller picked out James who was at the right place and the right time. More full-court magic from the Heat - Miami in control.
James still had the hot hand after halftime. His jumper gave the Heat a double-digit lead. James scored 28 on the night. Miller added 13 for Miami. The Heat cruised to beat Toronto, 96-72.
Toronto Raptors guard Ben Uzoh, left, bats the ball away from Miami Heat guard
Norris Cole during the first half of an NBA basketball game, Wednesday, April 18,
2012, in Miami. (AP Photo/Wilfredo Lee)
Editor:Zhang Dan |Source: CNTV.CN