Watch Video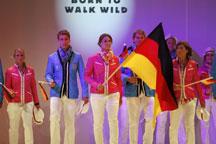 Play Video
Germany's top athletes are looking like winners in their new Olympic duds. The teammates gathered in Duesseldorf on Tuesday, showing-off their newly designed clothing line for the London Games, and Olympians turned into fashion models on the catwalk.
Athletes from all sports took part in the event, showcasing their tracksuits, trainers and formal uniforms. The dominant colours of the outfit are blue, pink and orange. The clothes were designed by three suppliers, all of whom worked closely with the German Olympic Association to create the appropriate wear for the London climate. The German Olympic team will consist of 400 athletes while the Paralympic Team will send 170 athletes to London.
German Pole Vaulter Silke Spiegelburg said, "I think the clothes are great. They are very comfortable and fit. So I think I am well kitted-out and well-prepared. Training has been going very very well."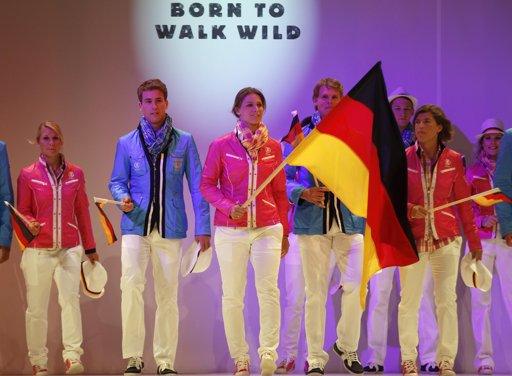 German fencing champion Britta Heidemann (C) and athletes present
the official uniforms of the German Olympic team for the 2012
Olympic Games in Duesseldorf April 24, 2012.
German Hockey Player Natascha Keller said, "I am expecting a colourful games, just like we are. And I hope that we will be able to enjoy everything with the many other athletes in the village, but at the same time concentrate on the sport. At the end, we want to stand on the podium."
Editor:Zhang Jingya |Source: CNTV.CN