Watch Video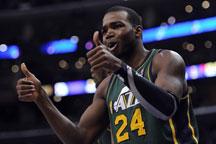 Play Video
The last teams left to fight for a final playoff spot in the NBA faced each other on Tuesday night. The Western Conference's 8th place Utah Jazz took on the 9th place Phoenix Suns. It was do-or-die for the Phoenix club's post-season plans.
But the Jazz came in riding a 7 game losing streak to the Suns, could they turn it around in time? Second quarter, Utah's Derrick Favors came up big in the paint to block Marcin Gortat. Devin Harris scored at the other end to push the Jazz ahead by 6 at Salt Lake City. The Suns' Steve Nash finished with 14 points, 11 dimes on the night and led a third quarter rally. The two-time MVP made it a one-point game.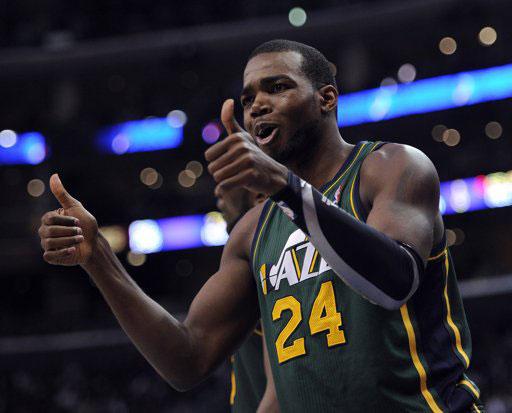 Paul Millsap, pictured earlier in the season, scored 26 points as the Utah
Jazz beat the Phoenix Suns 100-88 to clinch a Western Conference playoff berth.
They kept rallying early in the fourth, a steal led to a fast break basket for Sebastian Telfair. He would score and draw a foul. The 3-point play tied it at 74. But the Jazz came back, great spin move from Harris, and he drops a dime to Favors for the jam. Utah back on top by one. Favors had a big night for the Jazz.
Everything went right for Utah from then on, Gordon Hayward misses from distance, but Paul Millsap cleans it up. Utah cruised to a 7-point lead.
Late in the game, the Jazz put it away. Al Jefferson helped the hosts keep their momentum solid down the stretch. He collected 18 points and 16 boards on the night. The Jazz won it 100-88 to secure the final playoff berth in the West.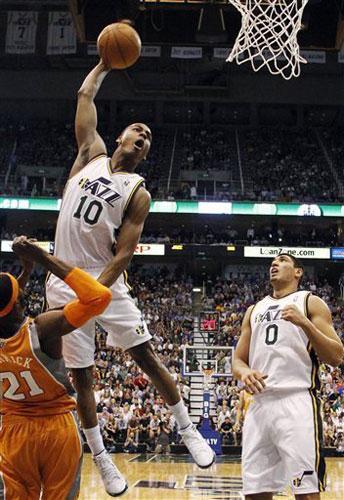 Utah Jazz guard Alec Burks (10) dunks over Phoenix
Suns forward Hakim Warrick (21) during the first
half of an NBA basketball game, Tuesday,
April 24, 2012, in Salt Lake City.
Editor:Bai Yang |Source: CNTV.CN